Red Bull's Vettel wins 2009 Chinese F1 GP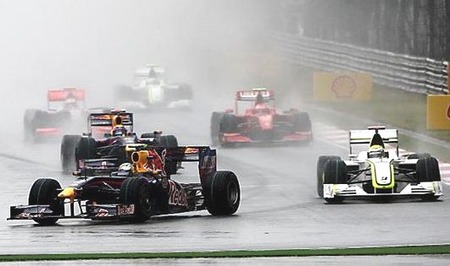 Sebastian Vettel started from pole position at Monza last year, and won. He started from pole position in China on Sunday afternoon, and this time he led team mate Mark Webber home in a superb one-two that gave the team its first success under the Red Bull Racing banner.
On wet and windy conditions, it was the Mercedes-Benz safety car who led the field for the first eight laps.
When the safety car pulled in after those eight laps, the Red Bulls led until their first refuelling stops, Webber on Lap 14, Vettel on 15. That put series leader Jenson Button into the lead after he'd passed Brawn team mate Rubens Barrichello on the 11th lap. Behind them, there was some great racing as McLaren's Lewis Hamilton and Ferrari's Felipe Massa were on the move.
The world champion climbed to fifth but then spun down to 10th on the Lap 11 and had to work his way back up to eighth by the time the safety car was deployed for the second time on Lap 18 when Robert Kubica slammed his BMW Sauber into the back of Jarno Trulli's Toyota. While Maylander was heading the field again, Sebastien Buemi's Toro Rosso ran into the back of Vettel, unsighted in the spray, but would get away with it.
The advantage now went back to Vettel, but a slick refuelling stop by Brawn got Button back out in second place ahead of Massa, whose Ferrari rolled to a silent halt on the 21st lap. The race resumed on Lap 23, and with a lighter fuel load Vettel sprinted away from Button and Webber.
Webber moved ahead as Button missed his braking for Turn 14 on the 29th lap. Now it was a Red Bull one-two, but Button snatched second back two laps later when Webber ran wide in the final corner on the slippery track. Not to be outdone, however, Webber snatched the place back within a lap with a terrific counter-attack.
When Button found himself only 1.2s ahead of Vettel on the 40th lap, the German having made his final fuel stop but the Briton still with one to come, the writing was on the wall. A lap later Vettel drew alongside the Brawn going into Turn 14, and took back the lead.
Button's second stop on Lap 42 dropped him to third, and for the first time Brawn did not look like the pacesetter this season. That was Adrian Newey's RB5 design, and Vettel and Webber had no trouble reeling off the final laps to a great triumph as Button rolled it off and settled for third ahead of Barrichello.
Both McLarens finished, Heikki Kovalainen heading Hamilton. The Finn made no mistakes, but Lewis had another spin and some off-course moments on his way to sixth. Behind him, Toyota's Timo Glock fought his way back up to seventh for Toyota ahead of the again impressive Toro Rosso's Sebastien Buemi, who withstood a lot of pressure in difficult conditions to take the final point.
Fernando Alonso was another spinner, bringing his Renault home only ninth ahead of Ferrari's Kimi Raikkonen, who fell back from fourth after his fuel stop on Lap 27 and was never thereafter in the hunt. He and Toro Rosso's Sebastien Bourdais grabbed places from Nick Heidfeld in the closing stages, the German leading BMW Sauber team mate Robert Kubica home after the latter needed a second new nose late in the race.
Adrian Sutil had been on target for two points but crashed shortly after pushing Hamilton into a mistake, so it was Force €ndia team mate Giancarlo Fisichella who took 14th place ahead of Nico Rosberg, who had a terrible afternoon that included an unsuccessful gamble on intermediate tyres. Renault's Nelson Piquet, who recently spent time in Dubai pulling off boring snow-doughnuts, also had a gruesome time with spins that required two new nose-jobs.
Besides Sutil, Williams' Kazuki Nakajima failed to finish, probably giddy after several spins, Ferrari's Felipe Massa dropped out of third place with an electronic problem on Lap 21, and Toyota's Jarno Trulli was forced out after being attacked early on by Kubica.
Button thus extends his championship lead to 21 points, ahead of Barrichello on 15, Vettel on 10 and Webber on 9.5.
RESULTS
1. S Vettel RBR-Renault
2. M Webber RBR-Renault
3. J Button Brawn-Mercedes
4. R Barrichello Brawn-Mercedes
5. H Kovalainen McLaren-Mercedes
6. L Hamilton McLaren-Mercedes
7. T Glock Toyota
8. S Buemi STR-Ferrari
9. F Alonso Renault
10. K Raikkonen Ferrari
11. S Bourdais STR-Ferrari
12. N Heidfeld BMW Sauber
13. R Kubica BMW Sauber
14. G Fisichella Force India-Mercedes
15. N Rosberg Williams-Toyota
16. N Piquet Renault
17. A Sutil Force India-Mercedes
Ret. K Nakajima Williams-Toyota
Ret. F Massa Ferrari
Ret. J Trulli Toyota
POINTS TO DATE
Button 21
Barrichello 15
Vettel 10
Glock 10
Webber 9.5
Trulli 8.5
Heidfeld 4
Alonso 4
Hamilton 4
Kovalainen 4
Rosberg 3.5
Buemi 3
Bourdais 1
Massa 0
Raikkonen 0
Kubica 0
Piquet 0
Nakajima 0
Sutil 0
Fisichella 0
CONSTRUCTOR POINTS TO DATE
Brawn GP 36
Red Bull Racing 19.5
Toyota 18.5
McLaren-Mercedes 8
BMW Sauber 4
Renault 4
Scuderia Toro Rosso 4
Williams 3.5
Ferrari 0
Force India 0