Car detailing at Yellow Hat Dubai

Last year, I got my Jeep detailed at Yellow Hat in Dubai's Times Square Mall. While I obviously had it done for free as part of our partnership, the full-detail job actually costs a relatively-low Dhs 750, including the exterior, interior and engine. I was always interested in seeing what they had to offer for this low price.
They started off by taping up the rubber bits, and then proceeded to polish the exterior with an electric rotary buffer. That's about as far as I hung around for the exterior bit.
A second crew had already started work on the interior with a brush and a vacuum, digging at the nooks and crannies of the doors.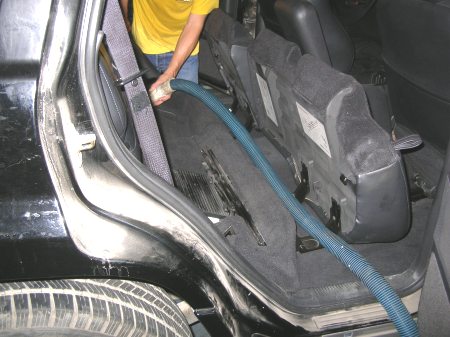 They do go as far as they can under the seats and all over the floor, but they did not remove the seats. The Jeep has a conveniently-foldable rear bench that had all sorts of food left there by the previous owner, and this too was cleaned up.
The dashboard was cleaned up of all dust and looked nearly new later, although little bits of age-old grease did remain on some of the buttons. The leather seats were given a shine, but the leather wrinkles were not worked on, which would've been a full-on restoration job.
The engine bay had the thickest layer of dust, as seen above, and it was cleaned up decently along the surface, but they did not go too deep between the components.
In an anti-climactic review, I did not take photos of the Jeep after the job was done. A few days later, the car was dirty again, but now my 7-year-old 4×4 looks like it is only a couple of years old after every wash, thanks to the shiny polish job, as seen in the photo above. Even the alloy wheels looked much brighter than before, and the interior was cleaner than ever. Of course, as I mentioned earlier, this was more of a quick detail rather than a full restoration, so all the deeper scratches remained on the paint, the leather was as wrinkly as before, and the deeper parts of the engine were still dusty. To go that far in fixing up your ride, you'd have to pay hundreds more than the Dhs 750 that this quickie cost.