Mercedes-Benz SLS first image leaked

This here is an image of the Mercedes SLS AMG, the replacement for the out-of-production Mercedes-Benz McLaren SLR supercar, with styling cues and gullwing doors inherited from the classic 300 SL. Some claim that this is a real "official" photo, although it could just be a computer-generated rendering.
Designed in-house instead of handing over the work to McLaren, the SLS uses a modified version of AMG's 6.2-litre normally-aspirated V8 to develop 571 hp and 650 Nm of torque, with a 0-100 kph time of 3.8 seconds and a top speed of 315 kph. The SLS is also expected to be cheaper than the McLaren SLR, at under Dhs 900,000.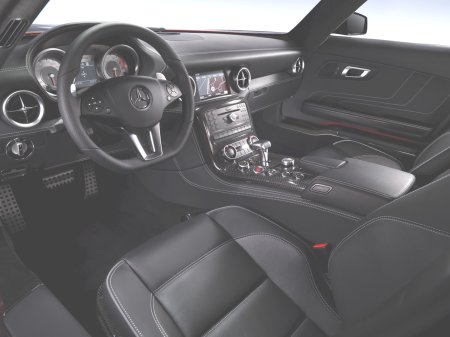 Photos of the non-remarkable interior were already released by Mercedes-Benz earlier. But while the first exterior image was "leaked" by the Dutch Autowereld.com website, the British Autocar magazine claims that an SLS eDrive is in the works for a 2015 debut. It will be a plug-in electric car built upon a heavily-modified version of the SLS platform.
According to Autocar, the electric SLS will be powered by 4 electric motors, each spinning one of the wheels and each has 98 kW, or 133 hp. So basically the car is a four-wheel-drive and has a combined power of 392 kW, translating to 532 hp and 880 Nm of torque. They also have to delete the SLS's front double-wishbone suspension to make enough space to place the motors on the front axle, replaced by horizontally-mounted coilover dampers in the SLS eDrive.
For now, the regular Mercedes-Benz SLS AMG is expected to hit showrooms sometime in early 2010.