Ferrari Enzo gets Edo Competition upgrade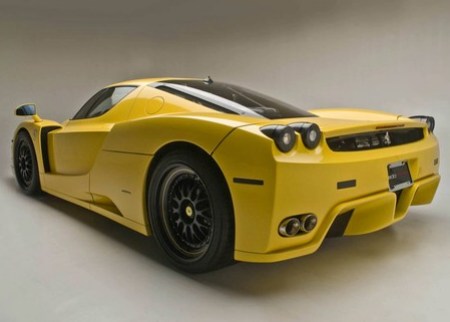 The limited-edition Ferrari Enzo has been out of production for a while now, and while its numbers are depleting due to regular accidents, other owners may want yet more power to push their luck. That's where Edo Competition comes in.
Edo Competition is offering a 170 hp power increase to 800 hp at 8,500 rpm, and maximum torque at 780 Nm at 5,800 rpm, from the 6.3-litre V12 engine. Top speed becomes 380 kph, with 0–100 kph in 3.2 seconds, 0-200 kph in 9.0 seconds and 0-300 kph in 19.0 seconds.
Modifications include new steel cylinders and pistons similar to the FXX, new camshafts, new "Titan" valve springs, new "Titan" connecting rods, new oil cooling piston pipes, new exhaust manifolds, sport catalytic stainless, sport catalytic converter, sport air filter, air-ram system, fuel cooling system, new clutch, new bearings, new oil pump and new gaskets.
The catalytic converter is stainless steel, with a two-level switch-controlled sound system, and new tail pipes in carbon-fibre.
Other features include ceramic brake system with 396 mm front brake discs and 360 mm rear brake discs, with special brake pads. Tyre-pressure control system shows pressure and temperature per wheel. Exterior changes are limited to paint jobs.
Independently-adjustable suspension, carbon-fibre air-intake, 100 kg weight reduction, as well as new 19-inch front and 20-inch rear wheels round out the package.