2010 Hyundai Tucson ix35 almost ready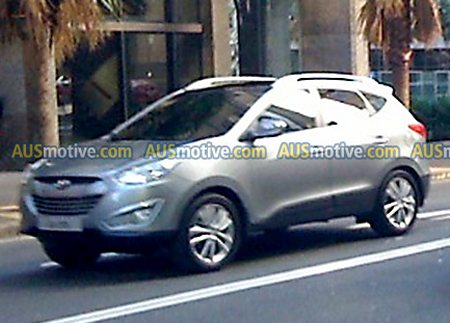 The popular Hyundai Tucson is getting old fast, but the Korean company already has the replacement ready. The 2010 Hyundai Tucson, to be renamed ix35 in many markets, was spotted in Australia during the filming of a TV commercial, which would hint at a release date by the end of this year.
Technically based on Hyundai's own IX-onic concept displayed at various auto shows, the new ix35 Tucson seems to borrow styling cues from various other cars, including the Ford S-Max minivan and the Nissan Qashqai. The crossover does end up with a premium look, however.
Available in front-wheel-drive or all-wheel-drive form, expect more powerful engines as seen in other new Hyundai-Kia products, such as a 154 hp 2.0-litre 4-cylinder and a 193 hp 2.7-litre V6, among others. A Kia version should debut soon, with unique styling, as the Sportage.
Keep track of updates and prices in the Hyundai Tucson buyer guide.