So we got a 2010 BMW 750Li

We finally got out hands on a 2010 BMW 7-Series. Indeed, we've never driven any sort of 7-Series before, and we really needed to find out if BMW's sporting DNA could translate to a large luxury sedan. The dynamics of the car are not shrouded in mystery any more. Meet the 2010 BMW 750Li — quite possibly, the best all-round luxury sedan we've ever driven.
After suffering the humiliation that was the 2002-2009 7-Series, BMW's latest flagship sedan regains its elegance, if only in its svelte new shape. The front bumper detailing is a bit of a mess, but the rest of the styling smartly makes the car look smaller than it really is.
Make no mistake though, it is a massive car. Our 750Li has a stretched wheelbase, making it a virtual limousine.
In a reversal of the norm, BMW takes the idea of rectangular exhaust tips from the Lexus LS, which itself has built a rep for being "inspired" by German marques. Huge LED tail lamps complete the rear end.
The interior is a bit too familiar, as the dash shares styling cues with everything from the X5 to the 135i. But it is gussied up with a few more curves, a fancier iDrive computer, perfectly-working Bluetooth, and acres more leather all over. We appreciated the regular-sized steering wheel in such a big car, although there are no paddle-shifters behind it. The cover for those cup-holders occasionally refuses to pop up, so we left it open.
The gauge cluster's entire bottom part is a colour LCD screen itself, showing navigation directions and service intervals, while there is an orange heads-up display on the windshield showing speed and, again, navigation directions. The side-mirrors have blind-spot warning lights while, oddly enough, the front bumper has sideways-viewing cameras whose purpose we haven't been able to determine.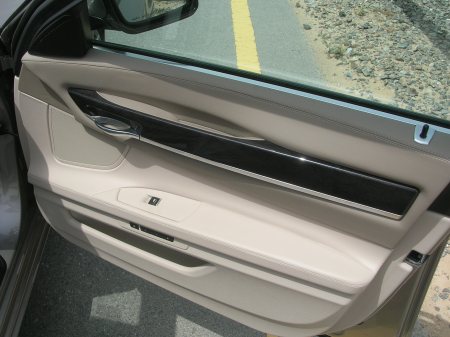 The cabin is full of premium wood and leather, likely customisable in terms of colour and texture. The inner door-pull handle is mounted high up, and it actually felt more natural pulling the door closed. The doors also have a suck-in feature that automatically pulls them closed if left slightly open.
The massive front seats are ventilated, fully power-operated including the extendable thigh-support, have adjustable glove-like headrests, and even have a vague massage feature.
But the real indulgence is in the rear, with oodles of legroom, little footrests, aircraft-style DVD screens and a separate iDrive controller.
There are two sets of overhead a/c controls at the rear, as well as little pop-down vanity mirrors.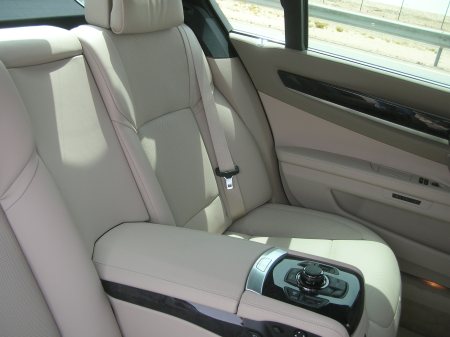 With business-class seats for only two, the chairs can slightly recline, but there is no massage feature in our tester. And while there are two hidden cup-holders, the rest of the storage spaces are too small to be useful, just like at the front.
Luggage space under the automated lid is long and deep, although that stupid square cube on the left, possibly housing a nuclear device of some sort, cuts into what would've been wagon-beating volume. There is no spare tyre, thanks to standard run-flat rubber wrapping the 20-inch alloys.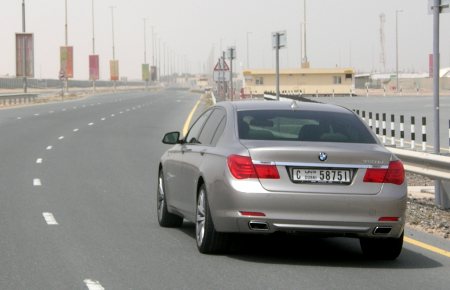 After our performance testing, we are preparing to head off on a cross-country trip. Because as pleasant as the power, ride and handling are, we were getting surprisingly good fuel consumption numbers for such a big powerful car. It would seem that going turbo was the right decision by BMW, even if the badging is ridiculously misleading. The obvious question would be how it stacks up against a Mercedes-Benz S-Class. The answer is we never drove an S-Class, and for various reasons, probably never will.