Red Bull's Vettel wins Japanese F1 Grand Prix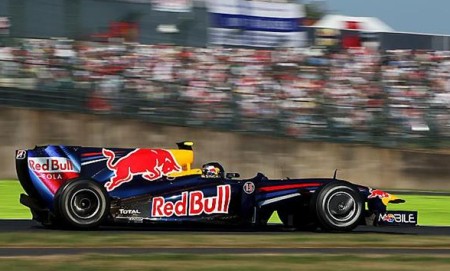 Red Bull's Sebastian Vettel brought his world championship hopes alive again with a superb victory in Japan on Sunday afternoon, winning as he pleased and leading Jarno Trulli's Toyota home by 4.8 seconds despite a late safety car intervention. Lewis Hamilton was third for McLaren, another 1.5 seconds adrift, after losing out to Trulli in the second pit stops.
Seventh place for Rubens Barrichello, just ahead of Brawn team mate Jenson Button, leaves the championship points table as Button 85, Barrichello 71, Vettel 69 with two races remaining.
Ahead of the duelling Brazilian and the Englishman, Kimi Raikkonen brought his Ferrari home fourth after a fighting drive, while Nico Rosberg made some amends for his Singapore error by taking fifth for Williams. Nick Heidfeld was sixth for BMW Sauber.
It was not a classic race by any means, as Vettel went straight into the lead from Hamilton and Trulli. Heidfeld and Raikkonen soon settled into a fight which saw the Ferrari driver move ahead after the second stops, while Button benefited from a clash between Force India's Adrian Sutil and McLaren's Heikki Kovalainen at the chicane on the 13th lap to move to 10th after a slow start. That put him into contention for points.
It all seemed a foregone conclusion until Jaime Alguersuari spun his Toro Rosso exiting 130R on the 44th lap. That brought out the safety car from Lap 45 until Lap 49, closing the field and apparently giving Trulli and Hamilton a another shot at Vettel. However, Romain Grosjean's lapped Renault lay between the Red Bull and the Toyota, so that fight never materialised. Raikkonen had a brief look at Hamilton but soon dropped back to keep just ahead of Rosberg and Heidfeld. Further back, however, Button had a brief look at Barrichello at the chicane before having to defend his solitary point from hard-charging Robert Kubica in the second BMW Sauber.
Fernando Alonso's single-stop strategy for Renault earned him 10th place ahead of Kovalainen, who lost a place to Giancarlo Fisichella in their second pit stop but regained it by diving down the inside of the startled Italian as they left the pits. By the flag Fisichella had his former Force India team mates Adrian Sutil and Vitantonio Liuzzi right on his gearbox. Williams' Kazuki Nakajima was 15th ahead of Grosjean, while Mark Webber's sole consolation from a day on which he started from the pits and went back there five times with various problems was fastest lap, set on the penultimate tour.
As if Toro Rosso's day wasn't bad enough with Alguersuari's crash, Sebastian Buemi almost stalled on the grid and later retired with mechanical problems.
As the drivers' world championship heats up, Brawn have all but settled the constructors' with 156 points to Red Bull's 120.5, placing the latter within half a point of clinching that crown.
RESULTS
1 15 Sebastian Vettel RBR-Renault
2 9 Jarno Trulli Toyota
3 1 Lewis Hamilton McLaren-Mercedes
4 4 Kimi Räikkönen Ferrari
5 16 Nico Rosberg Williams-Toyota
6 6 Nick Heidfeld BMW Sauber
7 23 Rubens Barrichello Brawn-Mercedes
8 22 Jenson Button Brawn-Mercedes
9 5 Robert Kubica BMW Sauber
10 7 Fernando Alonso Renault
11 2 Heikki Kovalainen McLaren-Mercedes
12 3 Giancarlo Fisichella Ferrari
13 20 Adrian Sutil Force India-Mercedes
14 21 Vitantonio Liuzzi Force India-Mercedes
15 17 Kazuki Nakajima Williams-Toyota
16 8 Romain Grosjean Renault
17 14 Mark Webber RBR-Renault
Ret 11 Jaime Alguersuari STR-Ferrari
Ret 12 Sebastien Buemi STR-Ferrari
POINTS TO DATE
1 Jenson Button Brawn-Mercedes 85
2 Rubens Barrichello Brawn-Mercedes 71
3 Sebastian Vettel RBR-Renault 69
4 Mark Webber RBR-Renault 51.5
5 Kimi Räikkönen Ferrari 45
6 Lewis Hamilton McLaren-Mercedes 43
7 Nico Rosberg Williams-Toyota 34.5
8 Jarno Trulli Toyota 30.5
9 Fernando Alonso Renault 26
10 Timo Glock Toyota 24
11 Felipe Massa Ferrari 22
12 Heikki Kovalainen McLaren-Mercedes 22
13 Nick Heidfeld BMW Sauber 15
14 Robert Kubica BMW Sauber 9
15 Giancarlo Fisichella Ferrari 8
16 Adrian Sutil German Force India-Mercedes 5
17 Sebastien Buemi STR-Ferrari 3
18 Sebastien Bourdais STR-Ferrari 2
19 Kazuki Nakajima Williams-Toyota 0
20 Nelsinho Piquet Renault 0
21 Vitantonio Liuzzi Force India-Mercedes 0
22 Luca Badoer Ferrari 0
23 Romain Grosjean Renault 0
24 Jaime Alguersuari STR-Ferrari 0
CONSTRUCTOR POINTS TO DATE
1 Brawn-Mercedes 156
2 RBR-Renault 120.5
3 Ferrari 67
4 McLaren-Mercedes 65
5 Toyota 54.5
6 Williams-Toyota 34.5
7 Renault 26
8 BMW Sauber 24
9 Force India-Mercedes 13
10 STR-Ferrari 5