Chevrolet Corvette 2011 gets Z06 Carbon edition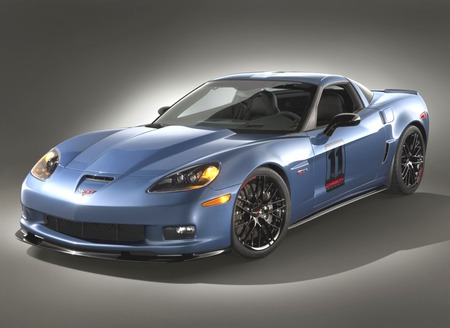 Taking a cue from Ford's desperate "special-edition" Mustang models, the General has just revealed yet another variant of the Corvette. This time, it is the "limited-edition" Z06 Carbon. More than just a sticker package, the Carbon is a Z06 that benefits from some of the tech that debuted in the exotic Corvette ZR1.
This limited edition Z06 comes with a stock 7.0-litre V8, Brembo carbon-ceramic brakes with dark-gray calipers, black 20-spoke 19-inch front/20-inch rear wheels with Michelin PS2 tyres, better cooling, and the Magnetic Selective Ride Control for the first time on the Z06.
The Corvette Z06 Carbon will be available in two colours, namely orange and dark blue. Black headlamps and mirrors, a ZR1-style body-colour spoiler, body-colour door handles, carbon-fibre raised hood, black carbon-fibre rockers and splitter, and a special carbon pattern engine cover round out the styling.
The Z06 Carbon's ebony leather and suede interior is complemented by blue or orange seat stitching to match the exterior colour chosen. Other features include a unique steering wheel emblem, sill plate and logo headrest.
An optional Z07 performance package that includes the mechanical upgrades introduced on the Z06 Carbon can be added to a regular 2011 Z06. This package also includes grey 20-spoke wheels and all the chassis and cooling upgrades.
The CFZ Z06 carbon-fibre package includes black carbon-fibre rockers, splitter and roof panel with the full-width body-colour spoiler. It can also be purchased with or without the Z07 package on regular Z06 models.
The 2011 Corvette Z06 Carbon Limited Edition, as well as the new Z07 and CFZ Z06 option packages will be available by late summer, with parts possibly available at some UAE and other Middle East dealers. That means the Carbon limited edition isn't so limited after all.
Keep track of GCC updates in the Chevrolet Corvette buyer guide.