McLaren's Button wins 2010 Australian F1 GP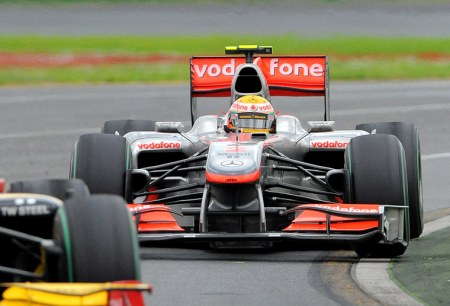 Jenson Button moved within six points of the world championship lead on Sunday with a superbly judged victory for McLaren in a dramatic Australian Grand Prix that firmly gave the lie to suggestions that Formula One racing is boring.
A rain shower just before the start saw the field start on intermediate Bridgestone tyres, and after a brush between Button, Ferrari's Fernando Alonso and Mercedes' Michael Schumacher, then a heavy crash involving BMW Sauber's Kamui Kobayashi, Toro Rosso's Sebastien Buemi and Williams' Nico Hulkenberg in Turn Six, the safety car was deployed.
When racing resumed on Lap Five drivers then had to judge the best time to switch to slick tyres as the track began to dry out in places. Button made the decision first, but it seemed premature as he momentarily slid off the road as he rejoined from his pit stop on Lap Six.
By Lap Eight, however there were wholesale pit stops as the road dried out, by which time the Englishman had climbed back up the order. When the final stops had been completed by Lap 11 Red Bull's Sebastian Vettel had a one-second lead over Button, with hard-tyred Robert Kubica third for Renault ahead of a mighty scrap between Mercedes' Nico Rosberg, fast-starting Felipe Massa for Ferrari, Red Bull's Mark Webber and McLaren's Lewis Hamilton as, further back, Alonso recovered having been spun to the back of the pack at the start.
Soon Vettel and Button had left Kubica to his own devices, and the Red Bull driver seemed to have things under control. But on the 20th lap the German speared off into the gravel in Turn 13, handing Button the lead he held comfortably until the end. It is possible that the Red Bull suffered a wheel-related failure.
Behind Button, Kubica drove a brilliant race to hold off Hamilton, who had fought up to third after passing Webber and Massa. But a second tyre stop dropped the 2008 champion back and obliged him to fight again to catch Massa and Alonso who moved to third and fourth places. Hamilton and Webber had a fabulous fight as they drew closer and closer to the red cars, with Rosberg pulling up to join them and make the fight for second a six-car affair in the closing stages.
On Lap 56 Hamilton got alongside and fractionally ahead of Alonso, but the Spaniard braked super late, locked up and just maintained the position, and as Hamilton was obliged to back off a fraction Webber charged into the back of him, spinning them both off. The Australian was subsequently reprimanded for causing the collision.
Thus Kubica brought the Renault home a brilliant second from Massa, with Alonso fourth from Rosberg and the recovered Hamilton, who had put in the drive of the race.
Behind them, Vitantonio Liuzzi drove another unobtrusive but beautifully-controlled race for Force India, dealing with Pedro de la Rosa's BMW Sauber and holding eighth until the Webber/Hamilton incident elevated him to seventh. Rubens Barrichello again brought the Williams home in the points, this time eighth, ahead of the recovered Webber.
The final point went to Schumacher, who had a bruising afternoon after his first-corner altercation. He spent most of it getting a driving lesson from young Toro Rosso's Jaime Alguersuari, but at one stage he was also repassed by Timo Glock's Virgin and Heikki Kovalainen's Lotus as he fought back up the field. In the end he got past Alguersuari, and then jumped De la Rosa, but this was undoubtedly a tough afternoon for the multiple champ.
Alguersuari finished 11th on a day when he truly earned his F1 spurs, ahead of De la Rosa, while Lotus again earned top new team honours courtesy of Kovalainen's 13th place. Behind him, Karun Chandhok scored his and the HRT team's first-ever finish, at the second attempt.
The first-lap contretemps saw Kobayashi damage his BMW Sauber's front wing, and when it folded back under the car he was a passenger as it went out of control in Turn Six and he smashed into Buemi's Toro Rosso and Hulkenberg's Williams. All three cars were eliminated immediately, while Jarno Trulli counted as the first official retirement when his Lotus was wheeled off the grid and was unable to restart from the pits.
HRT's Bruno Senna retired early with yet more hydraulic problems, while Renault's Vitaly Petrov retired when he spun. Force India's Adrian Sutil fell prey to mechanical problems, while both Virgins also failed to go the distance.
After a gripping race Alonso still leads the world championship with 37 points to Massa's 33, Button's 31, Hamilton's 23 and Rosberg's 20. In the constructors' stakes, Ferrari still lead with 70 from McLaren on 54, Mercedes on 29 and Renault and Red Bull on 18.