Mercedes-Benz G-Wagen armoured patrol concept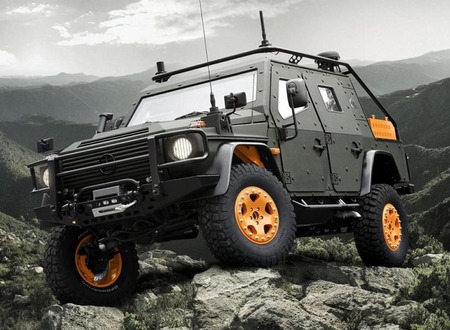 Mercedes-Benz has come with an armoured patrol vehicle concept that seems to be attempting a rejuvenation of its military roots. Dubbed the G-Wagen Light Armoured Patrol Vehicle 6.X Concept, it shows the real possibilities of the G-Wagen platform, other than creating rolling roadblocks on city streets.
Running a high-torque common rail diesel engine, the 6.X is capable of 150 kph speeds while being able to transport 1.3 tonnes of cargo.
The monocoque steel body provides ballistic protection and sits upon a compact enough wheelbase to give it good angles of approach and departure off-road.
The vehicle's modular armour plate system allows damaged plates to be removed quickly and be replaced with new or extra plates, and includes a mine deflector plate on the vehicles floor.
The variable lift front and rear coil-over air shock absorbers which are adjustable while driving, help lift the LAPV 6.X to 450 mm of ground clearance. An individual tyre inflation system is also able to detect ground conditions and adjust accordingly for best traction.
Mercedes-Benz built this in collaboration with EADS, a leading supplier of military technology, so other features include an EADS vehicle data recorder system, integrated communication system for UHF or VHF bands, integrated mobile command information system, and a signal jamming system.
The LAPV 6.X is simply a demonstration of how the G-Wagen can be modified to fit defined military needs, and is likely to be offered only for custom orders.