Mercedes-Benz SLS E-CELL electric prototype debuts

The AMG division of Mercedes-Benz has created a yellow prototype called the SLS AMG E-CELL, an electric version of their gullwing sports car that features a zero-emission high-tech drive.
Finished in fluorescent "AMG lumilectric magno" paint, the SLS E-CELL's drive system has four synchronous electric motors with a combined peak output of 392 kW, equivalent to 526 hp, and a maximum torque of 880 Nm. The four compact electric motors each achieve a maximum of 12,000 rpm and are positioned near to the wheels.
As a result, compared with wheel-hub motors the unsprung masses are substantially reduced. One transmission per axle transmits the power.
The electrically-powered SLS AMG is capable of 0-100 kph acceleration in four seconds which puts it almost on the same high level as the regular SLS AMG with the 6.2-litre V8 engine.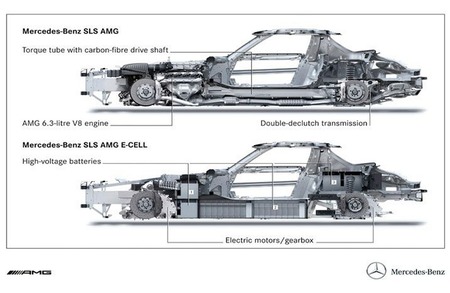 The SLS AMG E-CELL drive incorporates a liquid-cooled high-voltage lithium-ion battery featuring a modular design with an energy content of 48 kWh and a capacity of 40 Ah. With 324 lithium-ion polymer cells, the maximum electric load potential of the battery is 480 kW, equal to 643 hp, which is apparently the best figure in the automotive sector. Another technical feature is the intelligent parallel circuit of the individual battery modules which helps to maximise the safety, reliability and service life of the battery. The 400-volt battery is charged by means of targeted recuperation during braking while the car is being driven.
The transformation from petrol to electric also called for some specific changes to the interior. As a result, the AMG instrument cluster and centre console both feature a new design. The new AMG instrument cluster provides information on speed, charge status of the battery and the estimated range. The newly designed centre console now houses a 10-inch touchscreen, which driver and passenger can use to operate all of the audio, climate and navigation functions, and also obtain information on the flow of power from the four electric motors.
The AMG "Drive Unit" houses buttons for starting the motor, ESP functions, the AMG memory function and the extendable front splitter and rear spoiler. Using three new buttons, the driver can switch between P, R and D. The park setting is enabled automatically by switching the electric motors off.
While this is a working prototype, there will actually be a production version by 2013. For now, the Mercedes-Benz SLS AMG will be the only version.