Long-term update: 2006 BMW Z4 wrap-up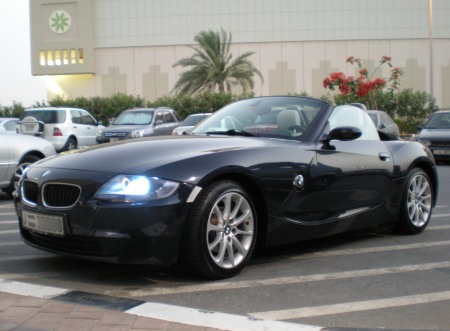 Since my last report, much has happened with the "Z." Besides getting a job in Abu Dhabi which called for multiple trips in the week to Abu Dhabi and back to Dubai, I had taken the car twice to Fujairah, became airborne with the car (almost becoming airborne myself!), and eventually selling it where it was shipped to Iran in June 2010. As a petrolhead, it was a fun experience to keep it always waxed up, hearing the deep exhaust and induction noise and most of all, driving with the roof down. An added minor benefit of having blue xenon lights is that traffic seems to get out of one's way much faster.
Now that I have sold the BMW Z4, and realised how much it actually cost, I would probably not recommend a premium German brand like this to anyone who was looking for the "budget option." Furthermore, one should not be fooled by the price of used cars as an easy way to own one's dream car. There is a reason why they are cheap; namely that the cost of maintenance being higher than a similarly priced Japanese car. Just look on the classifieds and check out the prices for used 7-series models to see what I mean. I worked out that it cost me an additional Dhs 1,400 per month in addition to the actual load repayments excluding petrol if I take into account all the accessories and maintenance. I also found the service from AGMC in Dubai and Sharjah is absolutely atrocious, but I have heard nothing but good things about Abu Dhabi Motors, even though the only dealing I had with them was for parts.
I worked out that towards the end of my time with the car, the fuel consumption was much better than earlier. It could have been the long distance or that the engine was fully opened up or perhaps just the fact that the driver had mellowed out quite a bit! By then, I managed to get about 8.6 litres/100 km on the daily commute and about 10 litres/100 km over weekends.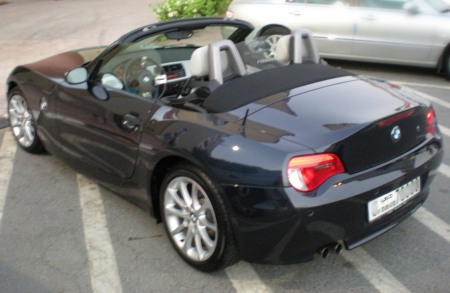 If you do decide to take the plunge and buy a BMW however, I would recommend getting the most powerful engine in that range; there were occasions where I struggled to keep up with other cars in the same performance bracket. Thankfully I emerged triumphant in all the "duels" I participated in as the situations called for more nerve than outright performance.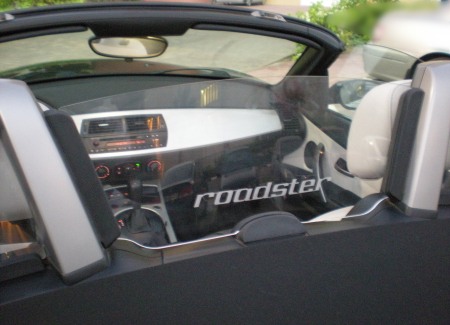 I sold it with approximately 119,000 km, so I covered about 82,000 km with the car in 25 months. Overall I am happy that I was able to own such a machine and enjoy it to the fullest.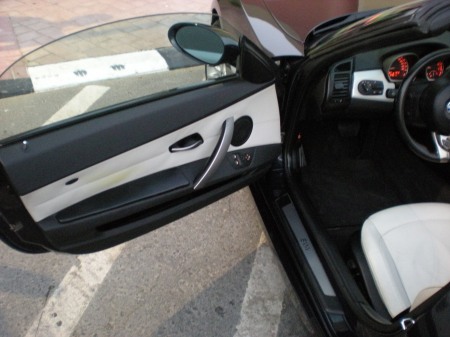 I am now renting a Honda Civic and there is very little difference between the rent vs buy option. If one keeps in mind that one never has to worry about maintenance or tyres and neither am I as meticulous about keeping it clean, not to mention the fact that I clock up about 7,000 km a month then it makes sense for me, at least, to rent rather than buy. This is a sign of the times we live in.
There are various accessories that I put into the car, and shouldn't be considered as part of the running costs:
February 2010: Custom made Car Cover (Delmon Upholstery) – Dhs 200
January 2010: Hood badge, auxilliary input kit, Bosch ICON wiper blade – Dhs 1,500
March 2009: Roadster Solutions roof cover (only covers softop) – Dhs 720
October 2009: Bimmian complete lighting set with 8000K Headlight bulbs – Dhs 600
October 2008: LeatherZ Door and Centre Armrest with cupholder from USA – Dhs 1,120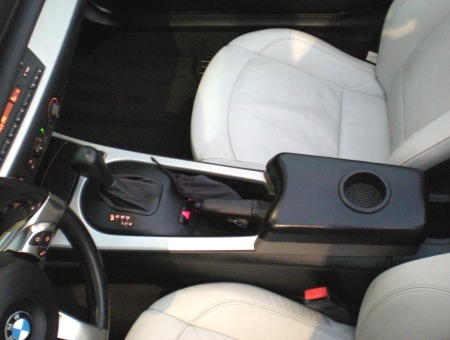 These are all the actual running expenses from the last update in October 2008 associated with the Z4 until when sold it on 1 June 2010, in reverse order:
Wheel alignment in April 2010 at Radial Tyre Change (117,359 km) – Dhs 150
K&N Filter Cleaning Kit (At the recommended 5,000km cleaning intervals) in April 2010 – Dhs 60
Oil Change at X Service Centre in March 2010 – Dhs 447
Complete front windscreen rubbers in February 2010 (Abu Dhabi Motors) – Dhs 802
Wheel alignment in February 2010 at Radial Tyre Change (109,441 km) – Dhs 150
Four Bridgestone Potenza non-RFT tyres in February 2010 (225/45/17) – Dhs 3,500
Battery in January 2010 at AGMC – Dhs 940
Dent removal by Dentmaster in January 2010 (not recommended for double skin doors) – Dhs 1,000
Replaced gearbox oil pan, new oil, adjusted handbrake, fit xenon headlight bulbs at X Service Centre (105,500 km) in December 2009 – Dhs 2,865
Inspection charges for gearbox leak (decided to have the job done elsewhere) from AGMC – Dhs 354
In August 2009, AGMC Service (99,173 km), inspection using diagnosis equipment, and replaced washer pump – Dhs 1,222
In June 2009, oil change at X Service Centre – Dhs 442
In January 2009, AGMC Service and inspecting minor faults (60,953 km) – Dhs 848
In November 2008, AGMC replaced front control arm bushings – Dhs 1,247
In October 2008, Radial Tyre Change wheel alignment – Dhs 150
In October 2008, X Service Centre oil change – Dhs 435
Other items I spent money on, beyond maintenance, include complete vehicle detailing in May 2010 for Dhs 595, comprehensive insurance in April 2010 (with dealer repair) for Dhs 6,200, Meguiars Products from ACE for full detailing in February 2010 done myself for Dhs 276 and a complete Meguiar's Detailing System for interior and exterior costing Dhs 698. These do not count in the final running costs.
Original Mileage When Bought: 37,000 km
Latest Mileage To Date: 119,000 km
Latest Average Fuel Economy: 8.6 litres/100 km
Cost of Latest Problems: Dhs 6,718
Cost of Latest Maintenance: Dhs 7,894

Total Non-Fuel Running Cost Since Bought:: Dhs 15,212