Suzuki Kizashi 2011 first Oman shipment sold to Europcar

Rental firm Europcar in Oman recently took delivery of a fleet of the all-new 2011 Suzuki Kizashi "Deluxe" model from Moosa Abdul Rahman Hassan, the Omani Suzuki dealer. Unless other dealers around the GCC are keeping quiet about it, we'd say Oman is the first country in the Middle East to receive the Kizashi.
As per their press release, it seems the rental and leasing firm has bought out almost the entire first shipment of base Kizashi midsize sedans from the Omani Suzuki dealer. Since the base "Deluxe" models are gone, only a few "Premium" models remain for regular customers. Apparently the car is so good that the Rent-A-Car could not resist buying them.
The Kizashi Deluxe trim comes with a 180 hp 2.4-litre 4-cylinder, CVT automatic, 6 airbags, ABS with EBD and brake assist, hill hold control, stability control, keyless start, dual zone auto a/c with rear vents, 17-inch alloy wheels, and a CD stereo with a dashboard centre speaker, USB/iPod ports, MP3 and WMA compatibility.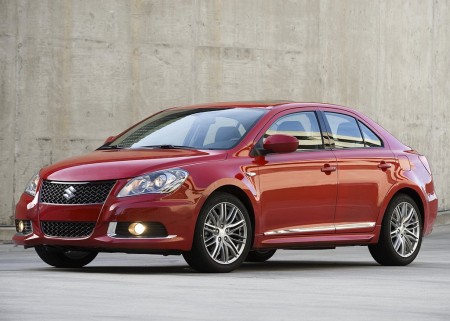 The Kizashi Premium trim comes with extras such as sunroof, cruise control, leather upholstery, 18-inch alloy wheels, 10-way power seats with 3-position memory system, four-way co-passenger power seat, parking sensors front and rear, fog lamps, Rockford Fosgate Audio System with additional sub-woofer, boot-lid spoiler, auto levelling HID headlamps with washers, auto rain-sensing wipers, sport front bumper & side skirts.
The dealer is emphasising its true Made-in-Japan origins and the fact that service intervals are spread every 10,000 km, unlike other pseudo-Japanese brands. The car itself was benchmarked against overpriced Audi models, factory-tested at the Nurburgring and has adequate cabin room, even if less than the usual Japanese midsizers.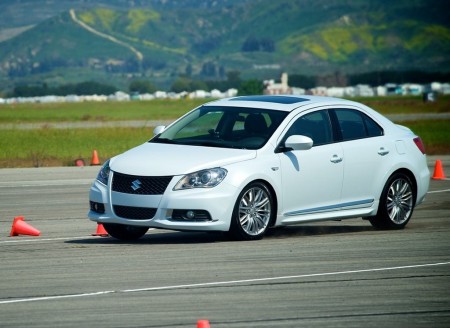 It is only a matter of time before the rather good Kizashi reaches UAE, Saudi Arabian and other showrooms. If dealer support elsewhere is as good as it is seems to be in Oman, then this car would have the potential to do well.
Keep track of local updates in the Suzuki buyer guide.