Ford F-150 Raptor becomes armoured Hennessey VelociRaptor APV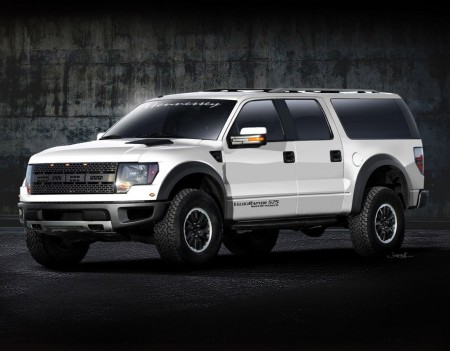 American tuner Hennessey is branching out into the personal armoured car market with the introduction of their new Hennessey Armored Performance Vehicles (APV) line. One of the ideas that could be part of the Hennessey APV range is the VelociRaptor APV, based on the Ford F-150 SVT Raptor SuperCrew.
Adding armour protection to an SUV apparently adds around 2000 kilos of extra weight, so the power and handling of the vehicles needs to be upgraded too. Hennessey's 2012 Hennessey VelociRaptor APV will be powered by a 575 hp supercharged 6.2-litre V8.
Hennessey Performance will also be offering a non-armoured version of the VelociRaptor APV for off-road enthusiasts and poseurs. There will be options for six, seven or eight seats. A full line of electronic upgrades will also be available, including satellite TV, high-speed internet, entertainment systems and mobile office systems.