Porsche 911 Carrera GTS adds yet another variant to 2011 range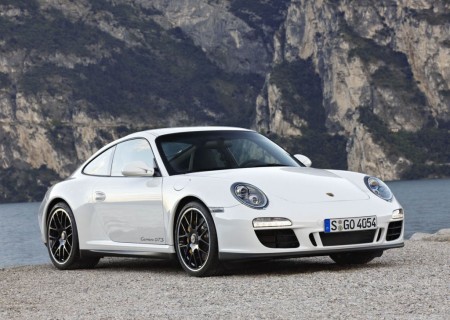 The Porsche 911 range is getting long in the tooth, as there are only so many ways the German firm can manipulate the template set back in the 1960s. Even the current version has been around for a while now, and an all-new variant is set to debut at the 2010 Paris Auto Show, dubbed the 911 Carrera GTS.
The Carrera GTS is supposed to fall vaguely between the 911 Carrera S and the 911 GT3, while sharing bodywork with the 911 Carrera 4, as evidenced by its wider rear track than the base 911 models.
The rear-engined rear-wheel-drive 911 GTS is powered by an upgraded 3.8-litre flat-6, good for 408 hp as well as 420 Nm of torque at 4200 rpm. For those keeping track, the GTS has 23 horses more than the standard S and 27 horses less than the track-focussed GT3. A 6-speed manual is standard while a 7-speed PDK automanual is optional. A Sport Chrono package that comes only with the PDK has launch control which makes it easy to do 0-100 kph runs in 4 seconds.
Other GTS features include 19-inch centre-hub wheels, SportDesign front and rear ends, black Alcantara trim and other upgrades.
Keep track of UAE prices and GCC updates in the Porsche 911 buyer guide.