Porsche 911 Speedster limited edition joins 2011 range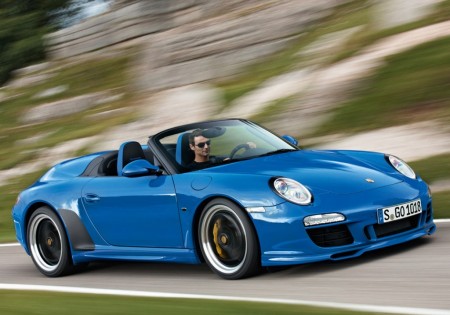 German carmaker Porsche has announced yet another variant of its aging 911, dubbed the 911 Speedster, which will make its official debut at the upcoming 2010 Paris Motor Show. Judging by the lukewarm response to our last 911 story, interest in the 911 is waning fast, and new variants of the same old formula isn't going to cut it.
The 911 Speedster has 60 mm lower windshield, a wide-body rear from the Carrera 4, a cover over the where the rear seats should be, clear tail lamps, colourful interior trim and a 408 hp 3.8-litre flat-6 engine mated to a 7-speed PDK dual-clutch automanual gearbox and rear-wheel-drive. It has 420 Nm of torque, can do the 0-100 kph run in 4.6 seconds, and has a top speed of 303 kph. Production will be limited to 356 units, in memory of the classic 1950s Porsche 356. The British-market price starts at £144,100, for sale from January 2011 onwards. Move along now, nothing to see here.
For UAE and GCC updates, visit the Porsche 911 buyer guide.