Saab 9-4X 2012 revealed by Spyker-owned firm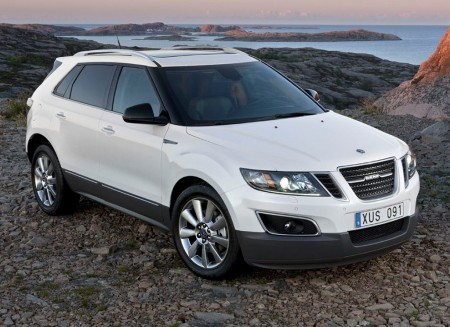 So General Motors went bankrupt, and part of its effort to save itself was to sell loss-making Saab to any schmuck who'd buy it. Spyker came along and bought it, so now they have a handful of new models with GM platforms that the General had pretty much finished developing before selling off the brand. Now the Swedish firm is debuting the new 2012 Saab 9-4X, based on the Cadillac SRX platform, at next month's 2010 Los Angeles Auto Show.
The engines are exactly the ones offered in the Cadillac, and are likely still supplied by GM. The 265 hp 3.0-litre motor for entry-level and premium variants features direct injection and variable valve timing with a choice of front-wheel-drive and "XWD" all-wheel-drive, while the 300 hp 2.8-litre exchanges direct injection for twin-scroll turbocharging and is exclusive to top-of-line Aero variants with "XWD" all-wheel-drive and "DriveSense" adaptive chassis control. Both engines are mated to 6-speed automatic transmissions.
Saab's "aviation heritage" features include an attitude-style speed read-out, green illumination for the needles, Saab 'joystick' adjusters for the mesh-style air vents, a start/stop button located between the front seats, driver-focused cockpit layout finished with wood or fake carbon-fibre trim and an 'ice-block' bar lit by LEDs extends across the lower deck lid. Other features include 18-inch alloy wheels as standard, while Aero models get 20-inch 'turbine' alloy wheels, as well as bi-xenon cornering headlights and black mesh inserts in the front grille and fog lamp housings.
Available infotainment includes two audio options, a 7-speaker system or a top-spec Bose system with 5.1 surround sound. The optional 8-inch touchscreen hard-drive navigation system includes 10GB storage for music files, Bluetooth hands-free phone system, voice command and steering wheel controls. In the rear, passengers get independent climate control in addition to the standard dual-zone system, and select their own onboard audio/visual entertainment through a dedicated unit in the back. This optional equipment has a video AUX input and two 8-inch screens in the rear face of the front seatbacks.
The 9-4X goes on sale in North America in May next year, with sales in Europe beginning from August, so expect the Saab 9-4X to reach the GCC sometime in the winter of 2011, a year from now.
Keep track of UAE updates in the Saab buyer guide.