Ford Edge 2011 public UAE launch in Dubai

Ford Middle East has finally launched the "new" 2011 Edge crossover in the UAE, although its first public debut was simply a display at the expensive GITEX tech trade show in Dubai.
Pretty much a facelift of the existing model that debuted back in 2006, the 2011 Ford Edge has a new front end with a larger grille, mild changes in the rear and new wheels.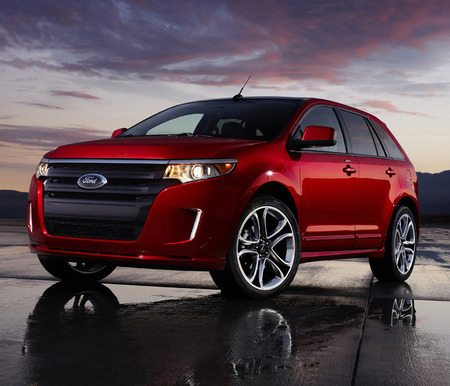 The standard 2011 Edge now comes with a 285 hp 3.5-litre V6, while a new Edge Sport model comes with a 305 hp 3.7-litre V6, both with variable camshaft timing and 6-speed automatic transmissions. The SelectShift tiptronic feature is standard on the 2011 Edge SEL and Limited models, and with paddle-shifters on the 2011 Edge Sport. Incidentally, test have shown that the more powerful Edge Sport is actually slower in the 0-100 kph run than the base model, due to its higher weight.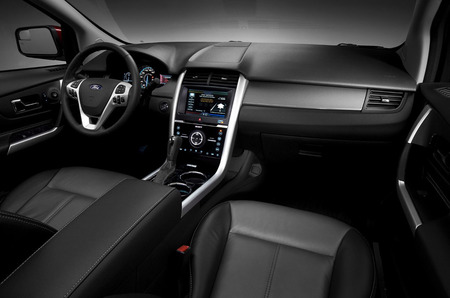 The new interior features a redesign with more soft-touch surfaces, two 4.2-inch colour LCD screens alongside an analog speedometer, and an 8-inch touchscreen LCD at the top of the centre stack. A five-way switch on each side of the steering wheel crossbar controls the information displayed on the corresponding instrument panel screens. The screens can be personalised to display information relevant to each individual driver using a simple button click, voice command or touchscreen tap. Other features include the
'MyFord' multimedia system with SYNC, 18-inch alloy wheels, capless fuel filler, keyless entry keypad, standard Blind Spot Mirrors, standard Roll Stability Control standard, optional Adaptive Cruise Control and Collision Warning with Brake Support, and optional Blind Spot Information System with Cross Traffic Alert. The Edge Sport gets a black grille, 22-inch wheels and paddle-shifters along with the larger engine.
Prices in Dubai stand at Dhs 99,900 for the base model up to Dhs 149,900 for the Edge Sport.
Keep track of future prices and updates in the Ford Edge buyer guide.