Honda Civic 2012 official sketch released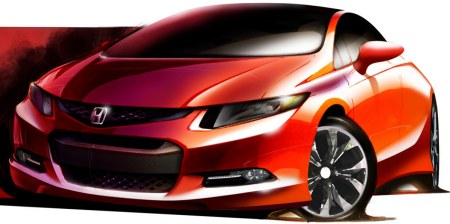 This is a sketch released by Honda of the 2012 Civic "concept" that will debut at the 2011 Detroit Auto Show in January. From the looks of it, this may be the coupe version that is available only in the United States.
The so-called concept in this ridiculously-vague sketch will showcase the future design direction of the 2012 Honda Civic. We stretched out the image a bit to give it a more realistic shape. Word is the next-generation Civic got delayed due to the stiff new competition from every manufacturer in this segment, including Chevrolet, Ford and Hyundai.
Keep track of updates in the Honda Civic buyer guide.