Toyota reveals Scion FR-S Sports Coupe Concept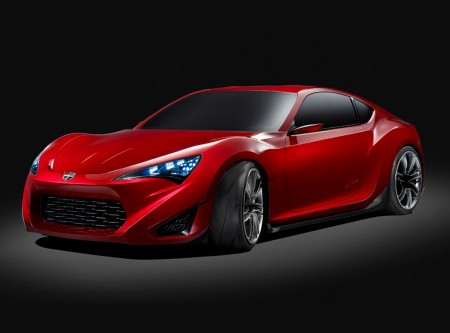 Scion — Toyota's pointless "youth brand" exclusively present in the U.S. market — has lifted covers off their latest FR-S Sports Coupe Concept at the 2011 New York Auto Show. The FR-S Coupe Concept is based on the Toyota FT-86 Concept and even looks somewhat the same.
Powered by Subaru's naturally-aspirated front-mounted 2.0-litre boxer engine incorporating Toyota's D4-S injection technology for more horsepower and torque throughout the powerband while maintaining optimum fuel efficiency, the FR-S is believed to have over 200 horses on tap.
Mated to either a 6-speed manual or a 6-speed automatic transmission, the FR-S, akin to FT-86, sports a short wheelbase, lower center of gravity, rear-wheel drive configuration and lightweight design, all pointing towards Toyota's intentions of creating a worthy
successor to their legendary AE86.
Both exterior and interior of the FR-S Coupe Concept exhibit highly ambitious styling to be brought into mass production. Even the four-piston-caliper front brakes designed to halt the 18-inch carbon ceramic brake rotors which are attached to the monstrous 20-inch rims
in a motorcycle-fashion will not find its way into the production model. Nevertheless, expect an interesting addition to the Scion line-up sometime next year while hoping for its FT-86 sibling to land on our Toyota-biased shores.