Volkswagen Beetle 2012 unveiled at Shanghai Auto Show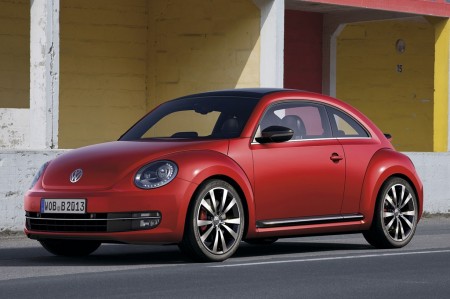 Volkswagen took the wraps off their latest generation Beetle, affectionately known as the Bug, at the 2011 Shanghai Motor Show a few weeks ago. First introduced during the Mesozoic era, Beetle is one of the very few nameplates which has survived a long timeframe and still manages to be a favourite of many.
In comparison to the previous generation Beetle introduced in 1998, the new one is longer, wider and sports a roofline that extends further backwards while featuring an aggressively-raked front windshield and increased wheelbase. The Beetle shall host a range of new exterior and interior appointments including newly designed horse-shoe shaped tail-lamps, LED daytime running lights, Bi-Xenon headlamps, Panoramic sunroof and Keyless access through satellite navigation systems. Airbags and ESP, alongside the standard ABS and EBD systems, are available to assure safety.
Volkswagen offers a choice of three gasoline engines for the Beetle – a 1.2-litre TSI engine rated at 104 hp, a 1.4-litre TSI engine rated at 158 hp and a 2.0-litre TSI engine rated at 200 hp. A diesel-electric variant shall be available for the UK and US markets , with a 1.6-litre engine rated at 104 hp aided by start-stop battery regenerative systems for optimum fuel efficiency.
While the pricing aspects are unknown, the Beetle with the new face shall go on sale in the American markets during fall of 2011. UK customers have to wait a bit longer until early 2012. Expect a GCC launch somewhere around the same time.