So we bought a 2008 Mitsubishi Galant GTS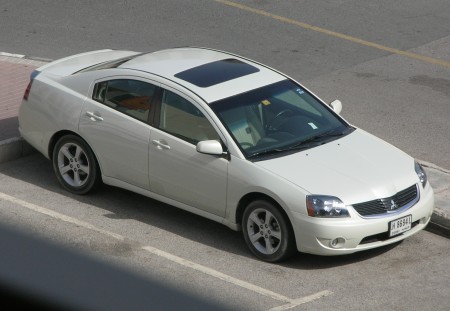 Some of you may have noticed that my brother Marouf does not write news articles for us any more. That's because he is now a web editor at a sports newspaper in Abu Dhabi. And that means he has to drive from Dubai to Abu Dhabi and back everyday, a distance of 270 km daily. We'd already sold our Peugeot 307 2.0 last year, I wasn't going to have him rack up miles on my fuel-hog Jeep or my exotic BMW, and our Renault Safrane is in use by the Old Man of the house. So he was doing the daily road-trip in our trusty old 1997 Toyota Corolla, still as functional and reliable as the day we bought it new. The problem is, it was a crap car to begin with. So we started hunting for a "new" used car. And we bought this 2008 Mitsubishi Galant GTS.
The Galant V6 wasn't our first choice. We first started looking for economy cars at around Dhs 25,000 such as the Nissan Tiida and the Honda Jazz, but they had to have a manual gearbox so that they could keep up with 140 kph speeds on the Dubai-Abu Dhabi highway when pulling out of, say, a petrol station. That was a real problem with our 1.3-litre Corolla, made even worse when the good a/c was running.
We didn't particularly like what we found, so we moved on to compact and midsize sedans for around Dhs 40,000 such as the 2008 Nissan Altima 2.5, the 2007 Honda Accord 2.4, the 2009 Mitsubishi Lancer EX, the 2009 Ford Focus, the 2008 Peugeot 308 and the 2008 Honda Civic. After doing more research on the durability of the latest CVT transmissions, we threw the Altima and the Lancer off the list. Our car was going to be doing 70,000 km per year, and CVTs have a "history" with high mileage. The Honda models, they were simply too expensive for what they were. And the Europeans both have a weak a/c and "uncertain" in reliability.
After throwing all that off our list, we started looking at anything and everything in the local classifieds, ranging from the Peugeot 207 RC for Dhs 38,000 all the way up to Dhs 117,000 for a Jeep Grand Cherokee SRT8, even considering a Chevrolet CR8 for Dhs 80,000 at one point. We have the cash, but then we came back down to Earth, because this was going to be a car to be used only for the daily roadtrip, not for racing punks and impressing valets. We randomly came across this 2008 Mitsubishi Galant GTS, it looked nice in that colour, asking price was only Dhs 40,000 and so we went to see it.
The owner was a Muslim brother named Saeed who told me everything about the history of the car, including the fact that he drives a bit aggressively and that he drove this car all the way to Saudi Arabia and back at 200 kph for Umra. Now, normally if you hear this, I'd advise you to run in the other direction. But you see, this gave us the interesting opportunity to report on a car with 43,500 km on it, and know why it was having a problem, since we had an idea of the car's history. Sometimes, knowing is everything.
Saeed handed us the key and told us to go test-drive the car. The car seemed fine for the most part. We came back and then we started discussing things. I even mentioned that I own DriveArabia.com and he was an occasional user of the website. It's always nice to meet our users. In the end, Saeed told us to take the car home for two days to try it out!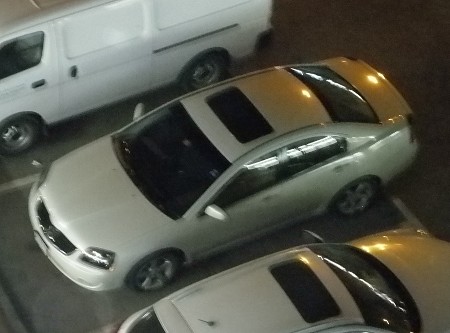 We took it home, did our barrage of tests, got it visually looked at by an expert industry friend, did the basic RTA passing, and went back to Saeed the next day to tell him we were buying the car!
Now, the aging Galant isn't the best midsize sedan money can buy. However, it is the cheapest Japanese-branded midsize sedan money can buy, and what you get for the money is damn impressive. But we'll get into that in another story.
Our car wasn't problem-free. It has a sizeable spider-crack on the rear bumper from a parking accident. The rear-seat leather was scratched by kids, there were food crumbs everywhere and the car actually failed the RTA test for worn tyres. That's about it really, aside from the usual minor dings and scratches.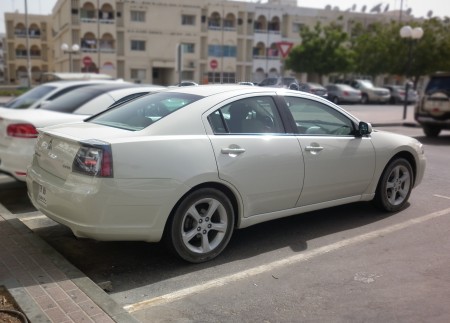 We quickly negotiated the price down to Dhs 38,000, made the deal, took the car home again for a few days, slapped on some tyres at my convenience, finally bought the car, and even gave Saeed detailed advice on his next new car, his heart set on a Chevrolet Tahoe which he is already in the process of buying.
We suspect the Galant goes for even lower prices than this, but Saeed was a stand-up guy and we didn't want to play games with him. This is how all used-car buying should be like. I'm rather enjoying the car right now, it being sportier than the one I tested in 2007, but this now means the end of the line for our family's 1997 Toyota Corolla 1.3 manual. Selling it now will be another story. We can already smell the potential buyers.