Mini Roadster debuts promising maxi fun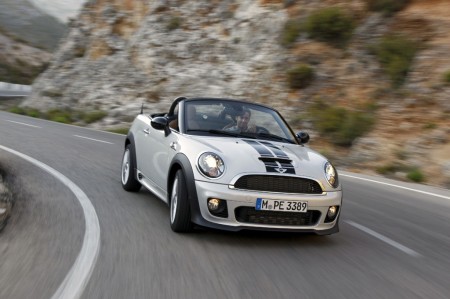 A few months ago, we had publicised the British auto giant Mini's intentions of vast expansion with the introduction of their strict two-seater 2012 Mini Coupe. And even while the Coupe has barely been launched here, there seems to be a convertible version of the Coupe unveiled, namely the MINI Roadster.
The Mini Roadster sports the same gasoline engine variants as the Coupe, with only a slight bump in power from just a single horse in the base model to a few couple of horses in the higher performance-oriented models. However, that does not seem to help the Roadster in outshining the Coupe on tarmac as it seemingly clocks slower acceleration times, with the basic Roadster trailing its Coupe brethren by upto 0.8 seconds. Nevertheless, the typical 'go-kart' driving experience remains impervious. There is also a 4-cylinder turbocharged 2.0-litre diesel variant on offer, namely the MINI Cooper SD Roadster, bragging 143 hp and 305 Nm of torque.
The MINI Roadster shares almost every feature with the MINI Coupe, with the only obvious distinction being the manually-foldable soft-top roof; which means, one can still enjoy Facebook and Twitter on-the-go as in the MINI Coupe, but in open air while enjoying the breeze if they wish to. The manual roof can be opened with the aid of a release lever on the windscreen frame, by turning it through 130-degrees and swivelling the soft-top back in a single movement behind the seats, where it locks into place. At the press of a button positioned between the roll-over bars, the roof extends back out of its lair, assisted by gas-pressure springs.
The Mini Coupe will be priced around Dhs 145,000, so the Roadster should come around to about Dhs 165,000. With the exception of the diesel variant, the MINI Roadster may be launched in the UAE, Saudi Arabia and GCC by early next year with a significantly higher price tag.