Toyota Land Cruiser, FJ Cruiser and Hilux Xtreme now in UAE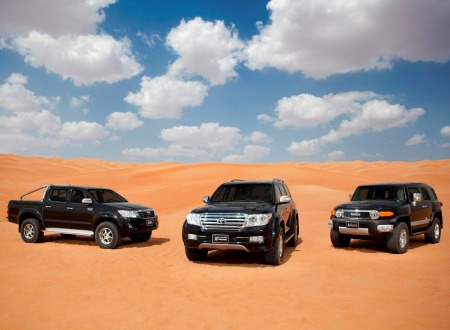 Al Futtaim Motors, in collaboration with Arctic Trucks, officially introduced the expanded Xtreme product range during the recent 2011 Dubai Motor Show. Alongside the 2012 Land Cruiser Xtreme, there are now the FJ Cruiser Xtreme and the Hilux Xtreme.
Modifications include 35-inch tyres for the Land Cruiser and 33-inch tyres for the FJ Cruiser and the Hilux. The suspension was lifted by 40 mm all-round with additional body-trimming to get the necessary wheel space for the larger tyres. All of the Xtreme vehicles are fitted with heavy-duty shock absorbers and come with a specially-made torque wrench. Additionally, the Land Cruiser Xtreme features a full widebody kit and side-step protection bars.
The regional Arctic Trucks facility is located in Dubai to build the vehicles offered here with a full dealer warranty. The Arctic Trucks outfit is originally from Iceland. Their first offering here was the special-order 2011 Toyota Land Cruiser Xtreme package, available as an upgrade with any new LC model.
For local prices and specs, visit the Toyota buyer guide.