2013 Hyundai Elantra GT hatchback revealed at Chicago Auto Show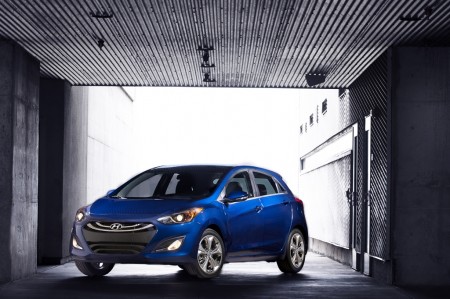 Hyundai has revealed the all-new 2013 Hyundai Elantra GT, a five-door hatchback variant of the Hyundai Elantra, at the Chicago Auto Show. Based on the new-generation Hyundai i30 designed for the European market, the new Elantra GT aims to devour the competition with class-leading space, features, fuel economy and value-for-money.
The Elantra GT hatchback is powered by the same 1.8-litre D-CVVT engine found in the Elantra sedan and the newly-introduced Elantra Coupe, churning upto 148 hp and 178 nm of torque, and mated to a 6-speed manual or 6-speed automatic transmission. Hyundai claims that the new Elantra GT hatchback is the lightest five-door hatchback in the compact segment, and features more cabin room, cargo space and versatility than the competition. The Elantra GT is said to possess a cargo space outclassing even the Nissan Juke crossover.
The 2013 Hyundai Elantra GT hatchback comes with a host of features including sport-tuned suspensions, multitude of airbags including a driver-side knee airbag, a rear-view camera that is hidden under the Hyundai logo on the rear hatch and appears only when needed, Hyundai Blue Link voice-activated infotainment navigation system, 3 driver-selectable steering modes,  clean-air ionizer, automatic defoggers, premium sound system and much more.
The new Elantra GT shall go on sale in the US markets by mid-2012. Expect the new hatch to show up in the UAE, Saudi Arabia and rest of the GCC later this year.