Lexus GS 2012 sedan launched in the UAE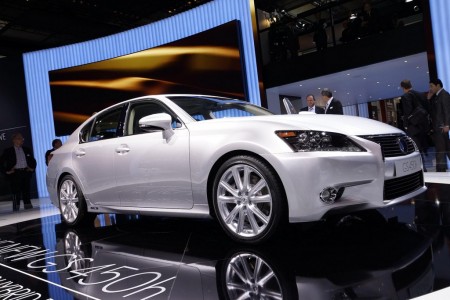 The 2012 Lexus GS is now on sale in the UAE. The all-new GS, initially available in GS 250 and GS 350 variants, will later be joined by a GS 450h hybrid model a few months down the line.
The 2012 GS will be available in three engine sizes. The GS 250 is powered by a 207 hp 2.5-litre V6 engine, the GS350 comes with a 312 hp 3.5-litre direct-injection V6 engine, while the GS450h hybrid is powered by a newly-developed 340 hp 3.5-litre Atkinson-cycle V6 engine with a two-motor hybrid system. The first two come with a 6-speed automatic, while the hybrid has a CVT automatic.
Aside front the spindle grille up front that will soon feature in all Lexus models, other features include dynamic radar cruise control, closed eye warning detector integrated with pre-crash safety system, lane change assist system and even a four-wheel-steering system that can turn the rear wheels 2 degrees in either direction.
Exterior dimensions were left virtually unchanged, but there is increased cabin and boot space. Cabin features also include the world's first 12.3-inch screen, among the usual luxury options. Models feature either 18-inch or 19-inch wheels, depending on trim level, while an F-Sport package is optional on the GS 350 and GS 450h, with adjustable sports suspension, special wheels and a body kit.
Prices start at around Dhs 195,000, and by all estimates go beyond Dhs 300,000 easily, competitive compared to the BMW 5-Series and the Mercedes-Benz E-Class, but undercut by the Infiniti M series.
Keep track of updates in the Lexus GS buyer guide.