Toyota Avalon 2013 looks great on U.S. debut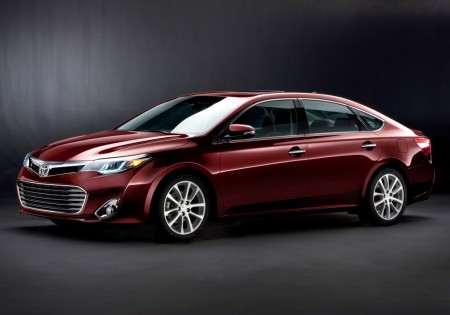 Designed and engineered in the United States, the 2013 Toyota Avalon is the first full-sizer from the Japanese company that actually made us go "wow" when we saw the images.
The platform remains the same, with an identical wheelbase as the previous model, but it is now slightly shorter and narrower then before, with a lower roofline. HID headlights up front and LED lamps in the back, along with a choice of 17-inch or 18-inch wheels, round out the exterior.
Toyota claims the ride and handling have been improved, with stiffer suspension and a stronger structure. It will even come with "Eco", "Normal" and "Sport" driving modes now. There is no word on the engine, although we assume it gets a carryover 272 hp 3.5-litre V6, mated to a front-wheel-drive platform and a 6-speed automatic, this time even coming with paddle-shifters.
The interior remains spacious, while the boot is even bigger now. A "Display Audio" system with a 6.1-inch touchscreen is standard on the new Avalon, while a JBL Synthesis Premium Audio system, HDD Premium Navigation with 7-inch screen, dynamic radar cruise control, heated and cooled front seats, heated rear seats, and a three-zone air conditioning system are also on the list of available features and equipment.
While some of Toyota's most recent offerings have been too conservative in terms of styling, the Avalon is a good sign that the company is still capable of making attractive cars, even while retaining that conservatism to a certain degree.
The model will debut at the 2012 New York Auto Show. Expect the 2013 Avalon to show up at dealerships in Saudi Arabia, UAE and other GCC countries by the end of the year.
Keep track of updates in the Toyota Avalon buyer guide.