Long-term update: 2012 Toyota Camry meets 2008 Mitsubishi Galant

So why the hell are we comparing the 2012 Toyota Camry to the 2008 Mitsubishi Galant GTS? Because we actually own the Mitsubishi. Throw in the fact that for the price for a brand-new basic Toyota Camry, you can buy a brand-new top-of-the-range Mitsubishi Galant V6, and this starts to make even more sense.
Let's start with the price. Though we bought our 2008 Mitsubishi Galant GTS used, you could still pick up a new one for less than Dhs 80,000 loaded. The 2012 Toyota Camry starts at Dhs 88,000 for a basic one, rising up to Dhs 101,000 for our loaded SE Plus version. In Toyota's defence though, the Camry with the 2.5-litre engine is a much more modern car, while the Galant dates back to 2004, as does its 3.8-litre engine.
As for size, the Galant is a few centimetres bigger in every direction than the Camry, except for the slightly-shorter wheelbase. In terms of styling, we like the aggressive front-end of the new Camry, but we prefer this older Galant's cleaner look along the sides and rear. Our true favourite would be a merging of the two cars. Incidentally, the latest facelifted Galant looks even more boring.
So the Mitsubishi's larger size would mean a class-leading interior, right? Wrong. The Galant is a spacious car in its own right, but Toyota has managed to extract every possible millimetre of space through clever engineering. As such, the Camry offers a couple of inches more kneeroom in the back as well as a boot that is nearly a foot longer! It doesn't help that the local Mitsubishi dealer installed a fire-extinguisher on our Galant's rear floor and that the rear seats don't fold down, although it is interesting to note that the Mitsubishi uses pricier hydraulic struts for the boot lid.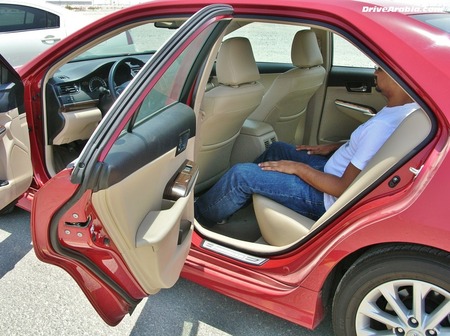 When it comes to features, the Camry is loaded to the brim if you're ready to pay for it. While both cars have alloys, leather, CD stereo, sunroof and a power driver's seat, our Camry SE Plus additionally has navigation, dual-zone a/c with rear vents, USB port, Bluetooth and smart keyless start. The Galant GTS has none of those latter gadgetry, managing with a single-zone auto a/c with no rear vents, and regular keyless entry.
In terms of interior materials, the Camry offers nicer trim on the dash and front doors, but only in limited amounts, as several areas are also hard plastics. The Galant GTS is more generous with its soft-touch areas, with the entire upper door wrapped in rubber and padded leatherette, extending to the rear doors as well.
But let's get to the performance already. So the Toyota Camry comes standard with a new 181 hp 2.5-litre 4-cylinder and a 6-speed automatic, while the cheaper Galant GTS packs a torquey 230 hp 3.8-litre V6 mated to a 5-speed automatic. The Galant is also weighed down by 170 kg more than the Toyota, a consequence of Mitsubishi's ancient techniques of chassis-strengthening as well as that larger engine.
In the middle of a July afternoon, we fired off a 0-100 kph run of 9 seconds with the Galant GTS, traction control off and front wheels spinning. With the Camry SE Plus, we only managed a 0-100 kph time of 10.6 seconds, weighed down with a full tank of petrol and undefeatable traction control.
But wait a minute. We fired off a 0-100 kph time of 8.8 seconds with a grey Toyota Camry SE back in January. How'd that happen? Well, it was winter back then, the SE weighs slightly less than the SE Plus, it had less fuel in its tank and, most importantly, the SE does not even have traction control. What a big difference the weather, weight and traction control makes.
On a handling run, the two cars are rather evenly matched, with similar levels of controlled body roll and grip, the latter because we installed the same model of tyres on our Galant as the Toyota. The only difference is that our Galant has 17-inch alloys, while the Camry gets no larger than 16-inchers. The ride quality and highway comfort are also very similar. The Galant still tries to play the "sporty" card by having much heavier steering feel, but the Camry brakes a bit shorter.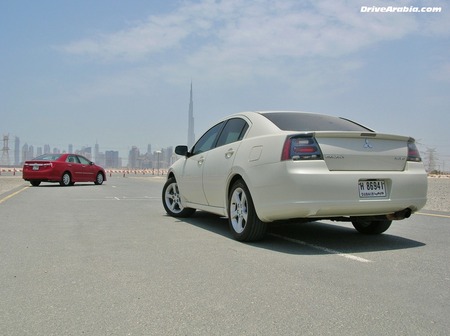 When it comes to fuel economy, the Galant GTS surprised us on the 140 kph Dubai-Abu Dhabi run with 8.6 litres/100 km. But we know of a Camry owner who does the same route at the same speed, and gets 7.6 litres/100 km. Having two fewer cylinders has its advantages.
Mitsubishi manages to still offer an outdated-but-entirely competent sedan that soldiers on as a forgotten troll. If you want a cheap reliable V6, do what we did and buy a used one, because the 2008 GTS looked better anyway. But if you really want a new Toyota with modern amenities, the Camry is at the top of its game.
Original Mileage When Borrowed: 5,883 km
Latest Mileage To Date: 8,000 km
Latest Average Fuel Economy: 11.2 litres/100 km
Cost of Latest Problems: Dhs 0
Cost of Latest Maintenance: Dhs 0

Total Non-Fuel Running Cost Since Borrowed: Dhs 0