Car crash ignites petrol station in Dubai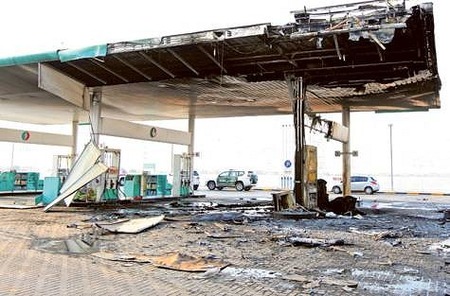 A fire broke out at an ENOC petrol station yesterday on Emirates Road, when a car lost control and crashed into one of the vehicles already fuelling at the station.
According to Gulf News, two cars were burnt, and the roof of the petrol station staton had started melting off. Fortunately no one was injured during this mishap. The incident was reported at 3:52 pm, and within seven minutes the Dubai Civil defence had fire trucks, police cars and ambulances at the location.
The station had an automatic shut-off system which turned off the fuel supply immediately as the accident occurred. While the incident got people caught up in an evening traffic jam, many of them saw clouds of thick smoke, heard loud sirens and police officials cordoning parts of the road.
Apparently everyone was evacuated in time and no one was injured. The petrol station is now shut down for investigation and eventual restoration.