Comparo: 2012 Toyota 86 vs 2007 Honda S2000

This one was a long time coming. Sure, everybody else is busy comparing the Toyota 86 to everything from the VW Scirocco to the Hyundai Genesis Coupe. But aside from the Mazda MX-5, there was only one other car that's similar to the 86 in recent history, and it's the Honda S2000. It ceased production only 3 years ago, so it is still possible to buy one on the used market. And whadaya know, we actually own one in our fleet. And our car also happens to be one of the lowest-mileage S2000s in the world. This was going to be interesting.
Style
But first, the stats. Both are small sports cars with rear-wheel-drive, high-revving 2.0-litre four-cylinder engines, 6-speed manual transmissions and limited-slip diffs. Side by side, both cars look to be about the same size, although the S2000 seems to sit lower and has a longer nose. Both look good, although the Honda gets more respect on the road simply because it is a rare convertible, while the 86 has been overexposed with proclamations of how "cheap" it is, augmented by its puny exhaust tips that give it an "incomplete" look.
Cabin
The 2012 Toyota 86 we have here is the base model, so it comes with the bare minimum in terms of accessories. It's got a manual a/c, a basic CD/MP3 stereo with Bluetooth and USB, 16-inch alloys and cloth bucket seats. It even has a fold-down back seat, although it's completely useless. What's not useless is the full-size spare tyre protruding through the boot floor in the reasonably-sized cargo area. Some surfaces are padded, but you have to move to the higher-spec automatic version to get a few more padded areas as well as features such as HID headlights, dual-zone a/c and cruise control.
On the flip side, the 2007 Honda S2000 came almost loaded in terms of trim, which isn't saying much. There is a single-zone a/c, a good but basic CD/radio without Bluetooth or USB, 17-inch alloys, and leather bucket seats. Our car has a digital instrument cluster and HID headlights, but not cruise control. There is a space-saver spare tyre in the cramped boot, and no back seats. The 86 easily beats the S2000 in terms of practicality, although the S2000 is trimmed much more nicer, with more soft-touch interior surfaces than the 86. There's also less clutter in the S2000, with minimal controls and a covered stereo, as if forcing you to focus on driving.
Speed
So which one is faster? Fanboys for both cars throw around magical acceleration figures, none of which are achievable in the real world. We tested both cars in early summer weather. First was the Honda S2000. With tyres in great shape, traction control off, "Super" RON98 petrol and a 5000 rpm launch, we managed a 0-100 kph time of 7.1 seconds. There was little or no wheelspin as the 240 hp VTEC engine offers very little low-end torque.
In contrast, the Toyota 86 enjoys decent low-end kick from the 200 hp Subaru boxer engine, with nothing much happening after that until the revs are near redline. With worn tyres, traction off, "Special" RON95 petrol and a 3000 rpm tyre-spinning launch, we managed a time of 9.2 seconds. Pathetic by any standard, but that's how we got the car, so we couldn't do more with it. Launching at higher revs simply spins the tyres more. Also, a 2-3 shift comes up right at 96 kph. Ironically, we later tested an automatic with better tyres and got 8.8 seconds with that.
Cruise
Interestingly, at highway speeds, the S2000 still has some juice left in 6th gear, as it's already doing a ridiculous 4000 rpm at 120 kph. The 86 settles down nicely at 3000 rpm at the same speed, so you have to downshift to overtake, but your ears can take a little break. The 86 is loud, but the S2000 is louder.
The S2000 rides very firmly on its 17-inchers, while the 86 is a fair bit more compliant with its meatier tyres on 16-inch wheels. But the automatic 86 we drove later, with 17-inch alloys, rides almost as firmly as the S2000.
Drive
Both cars claim to be driver-focussed more than anything else, and both deliver the goods, if in slightly different ways. The Honda is the tightest-handling rear-wheel-drive car we've ever driven. With the fresh Bridgestone Potenza S001's we threw on it a few months ago, it is nearly impossible to make the tail slide out, even with aggressive steering motions in mid-corner throttle inputs. You have to be very violent at very high speeds to get the car to misbehave. The S2000 is probably the grippiest rear-wheel-drive car you can buy, short of a McLaren MP4-12C. Again, the lack of torque means you will never end up with sudden wheelspin in the middle of a curve. Even with the ESP off, the S2000 is a car for cornering, but not a car to go sideways in.
While we've never felt any body roll in the Honda, the 86 has a wee bit of lean, which allows for a mildly tail-happy character that can either be fun or annoying, depending on where you're driving. Since power is lacking, you have to swing the weight as you go into a corner, to really get it sideways. With ESP off, controlling it is another story if you're not a pro, as you'll just spin out.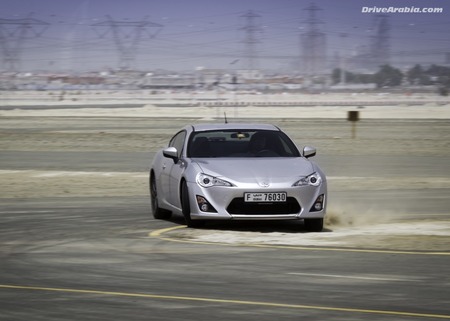 But Toyota has a trick "Sport" mode that allows just enough rear-wheel slide to give you a bit of a rush, before safely killing off the screeching and straightening the car. Of course, with our test car's well-worn tyres, the car's rear felt loose all the time, even with ESP fully on. On roundabouts, on off-ramps, and even on junctions, the tail kept stepping out a bit. The electronic nannies are excellent at cutting this off, but in the millisecond that the rear steps out on an off-ramp, with a wall on your left and traffic on your right, you quickly lose the confidence to drive fast in traffic, whereas the grippy S2000 can be made to snake through traffic at twice the speed on any curve without drama. Better tyres on the 86 improve grip a lot, as we found out with an automatic test car, but it still never feels as tight as the S2000.
Control
The true reason to buy these kinds of cars is not mindless speed, but more about the feel. Both cars deliver plenty of it through the seats, the pedals and the shifter. Both cars also have limited steering feel, although nowhere near as dead as, say, the latest soul-less BMWs. The steering is sharp and firm on both, with decent feedback, but it is ironic that lunch-box cars like the Honda Jazz and the Toyota Yaris offer even better feel than these sports cars.
Both have decent brakes, although we estimate the Honda might have a slight edge there as well. As for the gearbox, the Toyota shifter has a nice mildly-weighted action, but occasionally notchy. The Honda's shifter has a more satisfying action, as it moves through the gears more smoothly. Both have manageable clutch pedals, not soft like in a Toyota Corolla, and not as heavy as the truck-like Chevy Camaro SS.
Excitement
So which car is more exciting? In all honesty, even with the Toyota's tail-out antics, the Honda is the more exciting car to drive on the streets. The S2000 is louder, with the real race-car vibe that only a crazy 9000-rpm engine can give, especially since you're exposed to the elements while speeding around corners like an F1 wannabe. On the other hand, the 86 is a car you can have some lower-speed fun with if you find the open space for it, and can afford the tyre bills. The Toyota is also the better daily driver, with the engine's wider power band and less-frantic nature, a useable boot and even better fuel economy. Considering what we paid for it, the S2000 has already become a modern classic, but the 86 should provide cheap mass-produced entertainment for the near future in a niche that has few players.
Photos by Faisal Khatib and Mashfique Hussain Chowdhury.