SRT Viper and Alfa Romeo 4C launched at Dubai Motor Show

The Fiat-Chrysler Group released two new sports coupes at this year's Dubai Motor Show, both stunning and completely unlike each other. The SRT Viper and the Alfa Romeo 4C were officially launched, at a show stand that boasted all sorts of hot metal from Chrysler, Jeep, Dodge, Ram and Fiat-Abarth.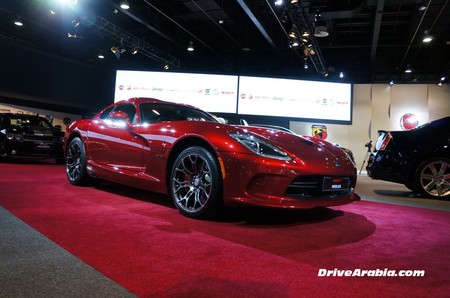 Chrysler dropped the Dodge badge before the Viper name, spinning off their halo sports car as a separate line. So the SRT Viper, as it will be known, is powered by a front-midship naturally-aspirated 640 hp 8.4-litre V10. Only the SRT Viper GTS variant will be available for now, which is the top model retailing for around Dhs 600,000.
A big X-brace up front helps the new platform with a 50% increase in rigidity over the last Viper. The 2014 Viper is fitted with fully-defeatable stability control, along with Pirelli P-Zero Z-rated tyres that were designed specifically for the Viper, 295-width up front and a ridiculous 355-width in the back.
Inside, the Viper comes with seats from Sabelt, suppliers for Ferrari, and a customisable 7-inch LCD screen within the gauges. Chrysler's 8.4-inch Uconnect Media Center is also included, as is a Harmon Kardon sound system.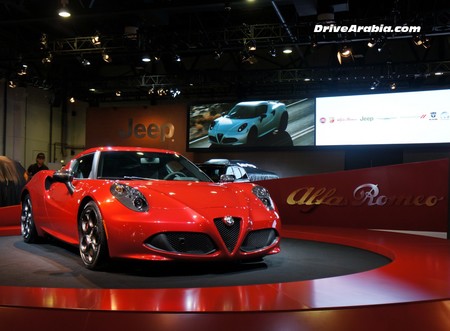 The Alfa Romeo 4C is powered by a 240 hp 1.75-litre turbo 4-cylinder mated to a "TCT" dual-clutch automatic and capable of doing the 0-100 kph run in 4.5 seconds, with a top speed of 258 kph and lateral acceleration over 1.1 g. Maximum torque of 350 Nm is constant between 2,100 and 4,000 rpm, but 80% of the torque is already available at just 1,800 rpm. For now, a loaded Launch Edition variant will be offered for Dhs 280,000, with more "regular" but customisable versions coming later.
The Alfa Romeo 4C recently set a new record at the Nurburgring for under-250 hp cars, with a time of 8 minutes 4 seconds.
Keep track of the latest updates and prices in the SRT Viper and Alfa Romeo 4C buyer guides.
Photos by Salma Sultana.