First drive: 2020 Audi A4 in Italy
Sedans are dying – this is what automotive sales charts around the world indicate, thanks to the mass exodus of buyers to the crossover SUV segment. The latter genre is booming and virtually every manufacturer under the sun – Audi included – has been stuffing its line-up over the past decade or so with an assortment of high-roofed contraptions offering at least a pretence of off-road ability.
Even so, the A4 sedan and Avant wagon are still the cornerstones of Audi's product pyramid and one out of five cars the brand sold last year was from the A4 family. Last year's A4 sales tally of 344,586 units contributed to a cumulative total of 7.5 million examples sold since the first-gen model debuted in 1994. Clearly, it's a key model for the four-ringed marque, which means it needs to be firing on all cylinders in a cut-throat segment that's been fortified by the recent launch of the brand-new G20 BMW 3 Series, while Mercedes-Benz's hot-selling C-Class was also given a substantial mid-life upgrade last year.
The current B9-generation A4 has now been around for almost four years and, although still a well-rounded vehicle, it hangs in the shadow of its more flamboyant Teutonic rivals. The existing A4's styling erred on the conservative side from day one, so this is one key aspect the design team has addressed in the mid-cycle update that we've lobbed into Italy to drive.
If ever a stunning backdrop was called for, Bolzano, nestled in the Tyrolean mountains, delivers in spades. I literally found myself gawping in wonderment during a drive program that snaked across impossibly picturesque alpine roads cluttered with tourist buses and masochistic cyclists – many of whom looked on the verge of cardiac arrest as they wheezed uphill.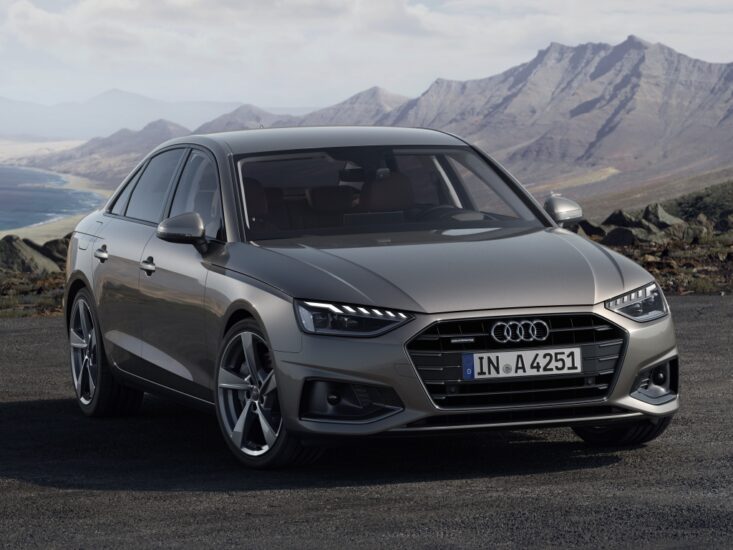 The revamped A4 – due on sale in our market in early 2020 – doesn't quite match the visual splendour of this northern Italian region, but it's an improvement nonetheless. The trademark single-frame grille is now broader and lower, giving the car a beefier stance on the road. Flanking the grille are much cleaner, more aggressive looking headlight clusters – LEDs now come as standard, while Matrix LED lights with auto high beam are optional. The flanks also gain musculature, thanks to sculpted fenders with crisp character lines and purposeful bulges over the wheelarches.
Meanwhile, the rear end had been reprofiled to incorporate more horizontal lines – including a chrome strip that connects the taillights – to create the impression of added width. They're not drastic changes (even though only the bonnet, roof and bootlid are carryovers), yet they add a welcome dose of attitude to a sedan that looked too anonymous for its own good.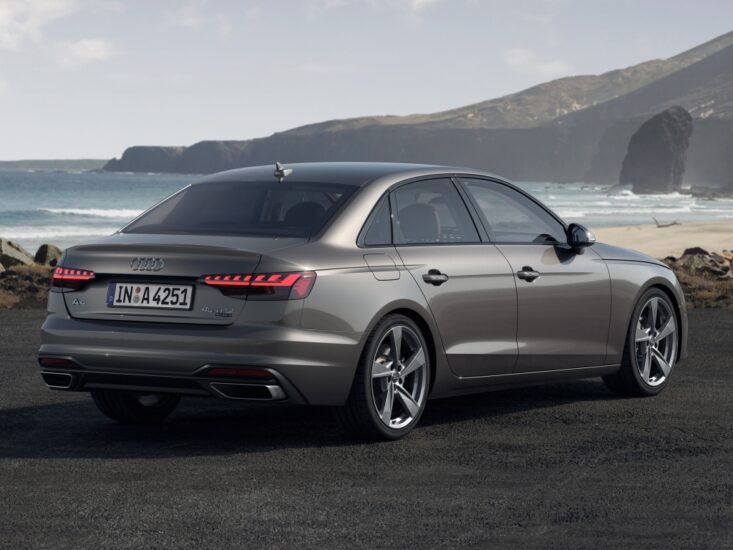 The powertrain line-up has also been upgraded via a trio of engines that feature a 12-volt mild hybrid system that Audi claims can reduce fuel consumption by up to 0.3 litres/100 km. Its key component is a belt alternator starter (BAS) connected to the crankshaft. When you lift off the gas, the BAS can recover up to 7hp of power and feed it to a separate lithium-ion battery stashed in the rear of the car. If you take your foot off the accelerator between 55-160 kph, the car literally coasts with the engine switched off. As soon as you touch the throttle again, the BAS starts the engine seamlessly. The really clever part is that, when you're at a standstill, the BAS fires up the engine as soon as the front camera detects that the vehicle ahead is starting to move.
For now, petrol-powered A4s come in three flavours – 35 TFSI, 40 TFSI and 45 TFSI – which eke out 150 hp/270 Nm, 190 hp/320 Nm and 245 hp/370 Nm respectively. All versions are powered by the VW Group's familiar EA888 2.0-litre TFSI engine (obviously in differing states of tune), with the first two sending power solely to the front wheels, while the third scores Audi's quattro all-wheel-drive system to effectively harness its higher outputs.
We drove the mid-spec A4 40 TFSI, for which Audi claims a 0-100 kph split of 7.3 seconds and v-max of 241 kph. Mated to a seven-speed dual-clutch transmission (S-tronic in Audi-speak), the turbo four-pot feels decently punchy in the middle and upper reaches of its rev band. That said, there's a distinct flat spot down low, which is particularly noticeable if you're attempting to power out of a tight 180-degree hairpin on a steeply inclined mountain pass.
A couple of areas where the latest A4 represents a marked step forward from its ancestors – if not its immediate predecessor, which is largely the same chassis-wise – is in its dynamism and tactility. Past A4s tended to feel a bit wooden and nose-heavy if you attempted to hurry them across winding roads. Today's version is distinctly more rewarding to hustle as the variable-ratio steering relays greater information to your fingertips, and there's a lot more front-end grip than was formerly the case. The result is that you can press on at a decent clip, even across some of the more challenging stretches we encountered in the Tyrolean alps. We should, however, point out that our test car was equipped with the optional 18-inch rims and adaptive sport suspension, which lowers ride height by 23mm.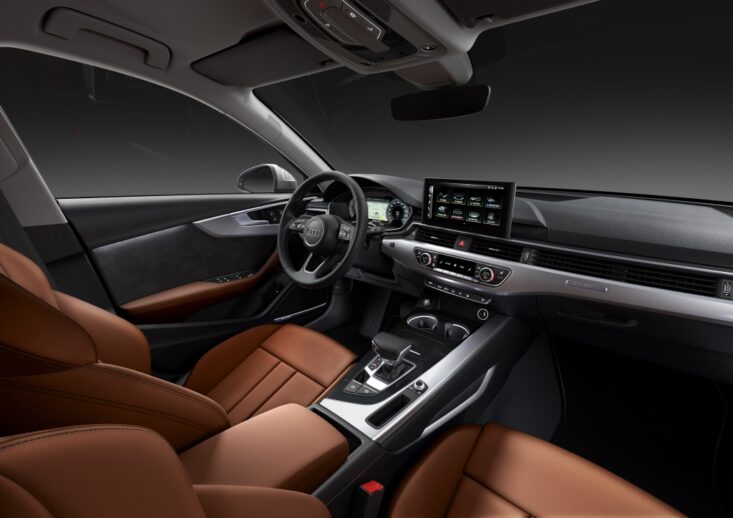 Nestled in the cockpit, there's a decent level of refinement as noise suppression is excellent, while ride quality is composed, if not class-leading. The highlight inside is a new 10.1-inch touchscreen that runs the latest-generation MMI software (replacing the old MMI rotary knob on the transmission tunnel), while a new digital instrument cluster replaces the previous car's analogue dials. These tech elements add a welcome dose of wow factor, although the touchscreen is occasionally a tad fiddly to use.
The A4 was stretched in length with the launch of the B9 generation, and the payoff from this is generous rear-seat legroom that trumps most rivals in its segment. As touched on earlier, drivetrain/wind/road noise is well insulated, so the A4's rear quarters offer almost limo levels of comfort and silence.
Has Audi done enough with the updated A4 to stave off its challengers? There's no denying the newcomer is eclipsed by the Alfa Romeo Giulia and BMW 3 Series in terms of engagement and athleticism, while the Merc C-Class has more design flair. That said, as an all-round package that does pretty much everything well – especially when it comes to cossetting its occupants – the latest A4 hits the mark. Understated it may be, but it's not short on substance.
Photos by Audi.