First drive: 2020 BMW X6 M50i in Germany
Remember the Ssangyong Actyon? Distinguished by a roofline that tapered sharply at the rear, it was arguably the first SUV-coupe in the world. The only problem? It wasn't particularly good, which meant it never sold in significant numbers, so the Korean carmaker quietly laid it to rest in 2010 after a five-year production run.
Nevertheless, BMW picked up on the offbeat formula and ran with it, launching the slope-roofed X6 in early 2008. Although sharing its underpinnings with its X5 stablemate, the X6 presented buyers with a fresh recipe – albeit one that demanded a bigger spend for a vehicle that offered less practicality, not to mention limited rear visibility. It seems counter-intuitive, yet the X6 has been a resounding success, with over 400,000 units sold over the past 11 years.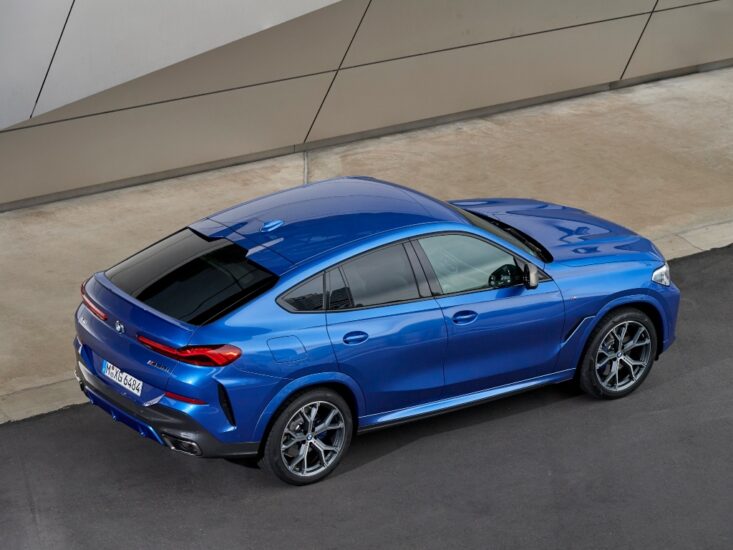 BeeEm's German compatriots have since crashed the party too, as Mercedes-Benz's line-up now includes the GLC and GLE Coupe, Audi has the Q3 Sportback and Q8, while Porsche recently launched the Cayenne Coupe. Across the English Channel, Range Rover offers the Evoque and Velar, both of which also have truncated rooflines.
Getting back to BMW and its X6, we were recently in Munich to sample the all-new third-generation model, which is underpinned by the same CLAR cluster architecture as the latest X5 and X7. That said, it's managed to dodge the ginormous grille of its siblings – in keeping with its sportier aspirations. You can each arrive at your own conclusions about the styling of the newbie but, to my eye, it stacks up as a more visually pleasing entity than its predecessor, which didn't exactly set the bar high.
On sale locally in mid-November, the latest X6 is 26mm longer, 15mm wider and 6mm lower than its forerunner, which means it looks beefier and more planted than before. The other payoff is greater sprawl room inside the cabin, courtesy of a wheelbase that's stretched by 42mm. Even rear-seat passengers are well catered to, and there's 580 litres of luggage space – swelling to 1,530 litres with the rear seat folded down.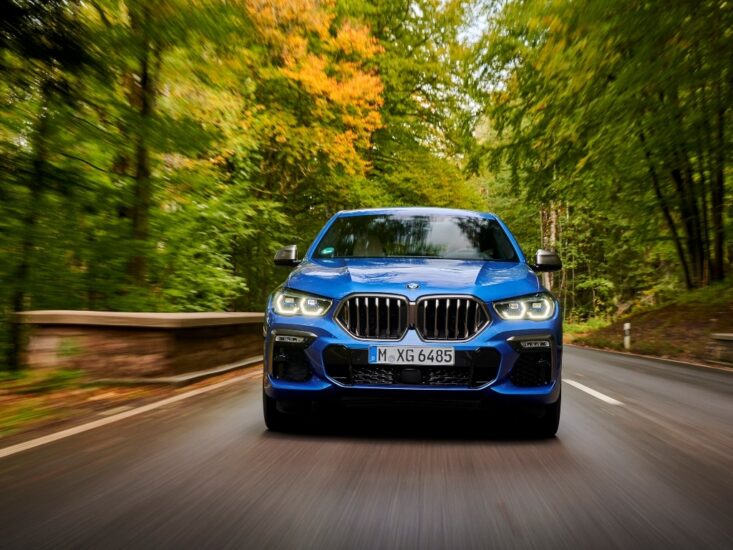 Among the new X6's surprise-and-delight features is a 'bling-bling' illuminated grille that lights up when opening or closing the car, or you can manually switch it on while driving too. Just the thing with which to raise eyebrows on Jumeirah Beach Walk.
The powertrain line-up kicks off with a 3.0-litre six-cylinder turbo in the xDrive40i, which ekes out 340 hp and 450 Nm, spearing it from 0-100 kph in 5.5 seconds. We sampled the top-dog (at least until the X6M debuts) X6 M50i, which thrashes out 530 hp and a Scharzenegger-esque 750 Nm of twist, on tap from 1,800-4,600 rpm. Both models are equipped with ZF's excellent eight-speed auto, with flappy paddles for manual shifting antics, should you be so inclined.
The M50i's stats – 0-100 kph in 4.3 seconds and electronically governed v-max of 250 kph – are decidedly healthy for a 2.3-tonne juggernaut, and its rapidity is immediately evident out in the real world. Mash the throttle, even halfway, and that mountain of torque launches the X6 at the horizon. Our drive route out of Munich included a derestricted stretch of autobahn, and the M50i clocked up 250kph with remarkable ease.
Power is sent to all four wheels via an xDrive system that splits torque variably to front and rear wheels, depending on the situation, while the chassis set-up includes Dynamic Damper Control (adaptive dampers) and active roll stabilisation. Spend a bit more and you get two-axle air suspension that allows for an 80mm range between the lowest and highest ride height levels. Models that sit below the overtly sporting M50i are available with an xOffroad package, but it's safe to say 99.99 per cent of X6s will never venture onto terrain more arduous than a gravel track, so we're guessing not many buyers will opt for it.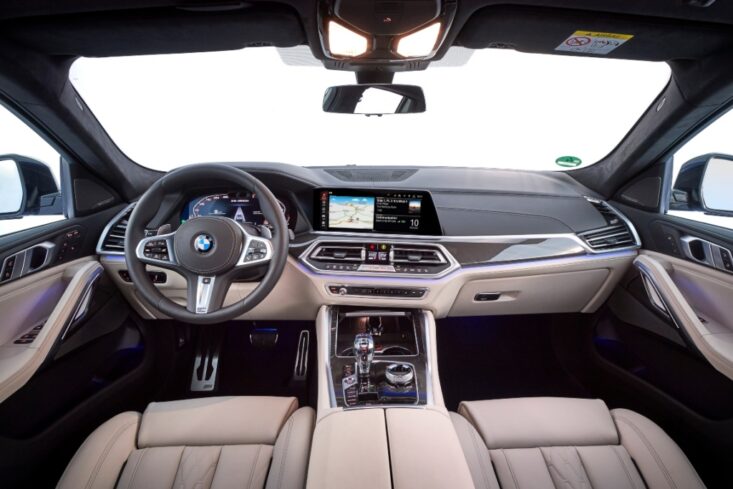 Rear visibility is definitely not one of the X6's strong suits, but the view out in other directions is better than expected. The X6's cabin layout mirrors the X5 with its virtual instrument cluster and central 12.3 -inch infotainment touchscreen, but it's all housed within a more slimline dashboard. There's also gesture control and voice activation that responds to the prompt "Hey BMW". The latter isn't foolproof, but there's always the touchscreen to fall back on if all else fails.
All in all, the X6 M50i is a rapid, respectably agile and pleasantly refined uber-SUV (or SAC, for Sports Activity Coupe in BMW-speak), but with an entry price point north of Dhs 450,000, it's no bargain-basement special. There's also no denying the X6 is founded far more on emotional appeal than practicality, although that hasn't stopped 400,000-plus consumers from buying them in the past.
Personally, I'd take an X5 or 5 Series wagon (not offered in our market) over an X6, but the burgeoning demand for vehicles of this genre – especially in our region – will likely ensure the latest (G06) iteration continues to rack up sales by the thousand.
Photos by BMW.