2021 Audi A3 Sedan debuts, completely new, but doesn't look it
Some days ago, we reported the launch of the 2021 Audi A3 Sportback, which is probably not slated for the Middle East as the reception for any pricey premium hatchback in our market has been lukewarm at best. But there a new iteration of the Audi A3 sedan for 2021, which will make its way into the market as the least expensive offering from the German brand, at least in the GCC.
The 2021 Audi A3 sedan's design brings no surprises as it takes almost all its lines from the Sportback all the way to the C-pillar. The edgy frontal styling from the hatchback is used here as well. At the rear, the changes don't look that drastic. The 2021 A3 sedan uses slim taillights reminiscent of the ones used by the Audi Q3, though sporting a slimmer shape. The overall design is quite handsome, and the hotter S and RS variants should bump it a notch further when they debut.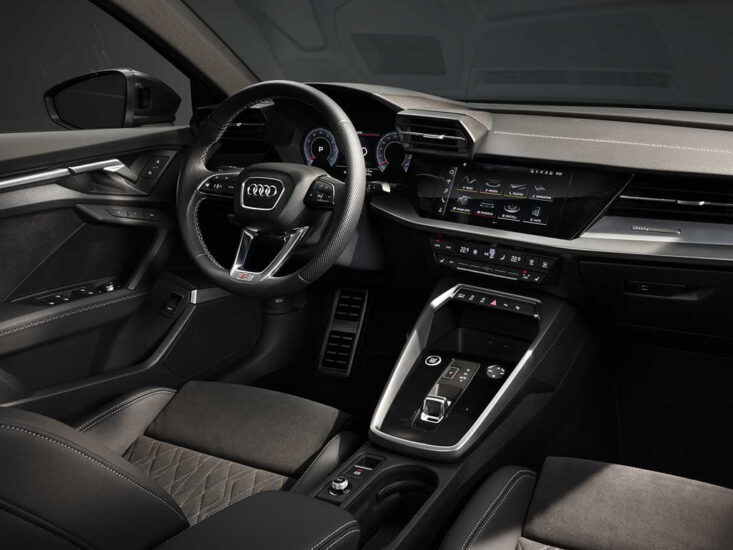 The interior has strayed far from the current A3 and is the same as that of the new Sportback. The air vents and some other edges of the dashboard follows a hexagonal design, taking some notes from sister-brand Lamborghini. The A3 lets go of the pop-up infotainment screen for a conventionally mounted 10.1-inch unit which comes with Android Auto and Apple Carplay. The Audi Virtual Cockpit system uses a 10.3-inch screen as standard, which can be swapped for a 12.3-inch unit. A heads-up display is also on the options list.
The engine details are not confirmed yet, but it will be safe to assume that some of the engines from the Sportback can be spotted in the 2021 Audi A3 sedan as well. The Sportback offers a base 1.0-litre turbocharged engine with 110 hp, a 1.5-litre engine with 150 hp, and a mild-hybrid with the same 1.5-litre engine. Two 2.0-litre diesel engines are also offered with 116 hp and 150 hp outputs. But Audi has yet to confirm the details on the engines that are slated for our market. The hotter S3 and RS3 models will soon follow.
The 2021 Audi A3 brings a bit more style and tech to the already stylish segment which is populated by awkward-looking offerings from Mercedes-Benz and BMW, although changes compared to the old model may be too subtle for people to notice, at least from the outside.