2022 Toyota Tundra photo released after leak
Toyota launching their flagship SUV the Land Cruiser LC300 is relatively small-fry news compared to what they are planning for the U.S. market, which is much bigger than the Middle East. The 2022 Toyota Tundra launch is coming soon. But some recently leaked pictures of the truck have persuaded the brand to release a proper photo, with a cheeky dig at the one who leaked the images.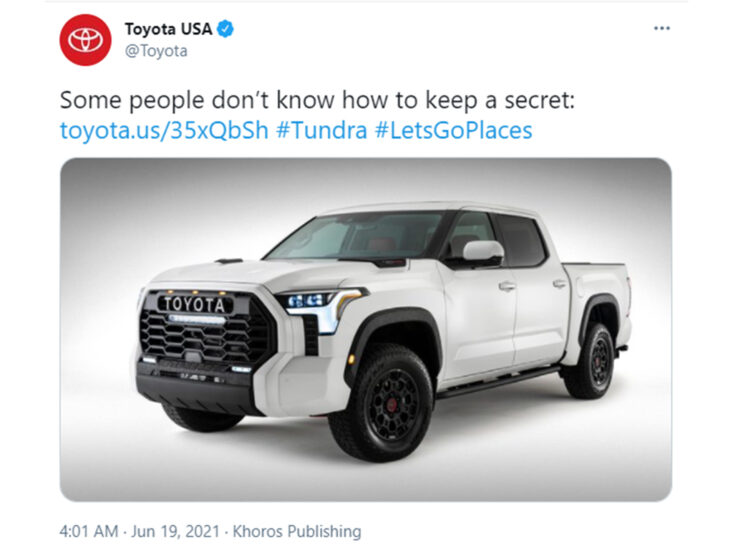 Toyota USA posted the official image with a dialogue aimed at whoever is responsible for the leak. However, this gave us an early glimpse into the upcoming truck's appearance. As it was evident from the teaser campaign launched by Toyota in May, the 2022 Tundra boasts a completely new design. Yet, it carries the same butch appeal of the present Tundra in spades.  In Toyota's official image, the 2022 Tundra is shown off in its spruced-up TRD guise, complete with its sporty additions. It shows off an L-shaped headlight flanking a colossal grill. An LED light bar is tucked neatly into the grill. In the leaked photos, a bold TRD Pro logo is etched into the tailgate.
It is expected that the Tundra will be based on a version of the "TNGA" platform underpinning the new Land Cruiser, which itself seems to be a version of the older model's platform, despite claims of being all new.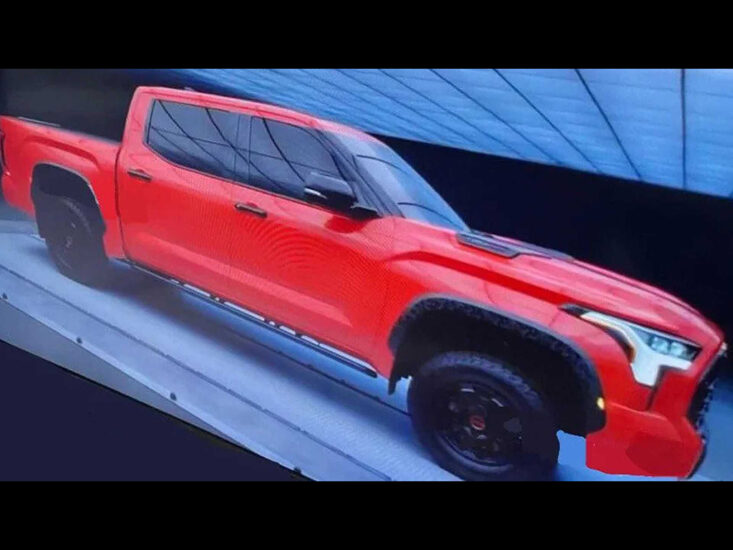 Rumours suggest strongly that the 2022 Toyota Tundra will borrow the same 3.5-litre twin-turbo V6 from the new Land Cruiser. So, this will kick out the current 5.7-litre V8, yet it will be more powerful. The outgoing V8 already makes 381 hp so the new Tundra will be quick on its feet. In the Land Cruiser LC300, the new V6 churns out 409 hp so the Tundra should make something close, if not the same number of horses.
With the covers finally off Toyota's flagship truck, the 2022 Toyota Tundra is no longer a mystery. It is now a waiting game to see how soon Toyota lets the Tundra soak in the limelight and shine in its full glory.