2022 Mazda CX-5 gets a slight refresh
The Mazda CX-5 is one of the sharper-looking crossovers in a rather tepid segment. With the current generation having racked up some years, a facelift was in order. So here is the 2022 Mazda CX-5 bringing in some subtle changes to the crossover, helping it stay fresh for a couple of more years.
The visual updates on the 2022 Mazda CX-5 are very hard to spot. Go closer and look into the headlamp cluster to spot a pair of rectangular LED lights. The grill is also revised, and it does not creep into the base of the headlamps as much as before. The bumper is cleaned up as well with a minimalistic design.
There is a new 2.5 Turbo model in the lineup, with its own distinct styling cues. The 2.5 Turbo Signature model gets body-colored wheel arches and bright silver alloy wheels. The interior is also appointed well, with Nappa leather and real wood. The seats have been updated for a better drive. The cabin gains a new drive select switch as well, called Mi-Drive.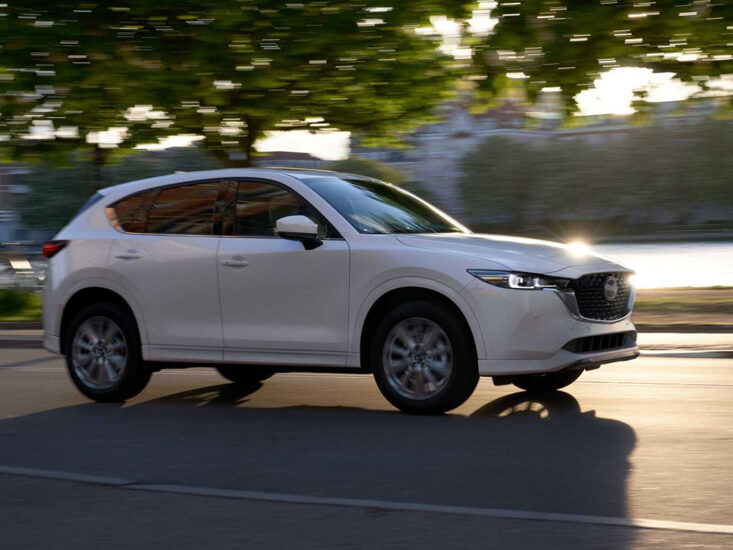 Under the hood, a revised 6-speed automatic transmission sits, delivering smoother acceleration. The suspension is new thanks to a new dampening control structure and a more rigid frame. The driveline gets a major update in the form of standard all-wheel drive. Mazda pledges to provide AWD as standard for all CX models in the United States but it remains to be seen if the Middle East gets the same offer.
The next generation of the Mazda CX-5 will switch to a rear-wheel-drive platform with larger inline-six engines, which is interesting as most manufacturers are taking the completely opposite route, favouring fuel efficiency and costs. Until the new CX-5 arrives, this refresh of the current model will have to do in a busy segment.
Keep track of the latest prices and updates in the UAE & GCC in the Mazda CX-5 buyer guide.