Chevrolet unveils HHR SS in America
During some American classic car show, called the Woodward Dream Cruise, Chevrolet introduced the 2008 HHR SS. It is the turbo version of the standard car, with 260 hp on tap.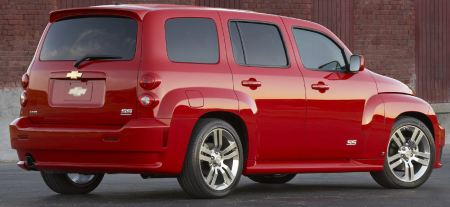 The HHR SS, essentially a tall crossover wagon, includes a turbocharged and intercooled engine with 260 hp, unique exterior styling and an SS-specific interior. Standard features include unique exterior appointments, with all-new front and rear fascias, new front grilles, a rear spoiler and 18-inch polished forged aluminium wheels wrapped with Michelin performance all-season tyres. Inside, SS-embroidered sport seats with suede inserts, an A-pillar boost gauge and a new, driver-oriented steering wheel and shifter support the serious driving capabilities.
Standard is a six-speed manual, while the optional four-speed automatic comes with an engine detuned to 235 hp. We heard that local dealers quietly sold a handful of standard HHR cars at high prices here, but never offficially offered the model for the GCC. So don't expect this thing to come here either.