The Corvette ZO6 is a class-leading machine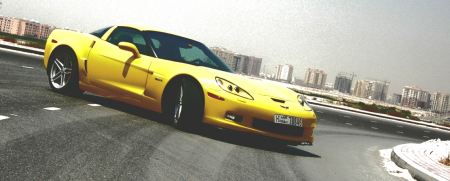 It is amazing that the company which brought us the goofy Spark can also create something as world-beating as the Corvette ZO6. The thing has enough power to wipe out most of the German and Italian competition. In fact, you'd have to spend a million dirhams at the Ferrari showroom to overtake this American piece of plastic. Shop at Porsche, and you have to get the Turbo model to take on the ZO6, at a 35% higher price. Think it can't handle? Well, think again.
The ZO6 has tyres wider than any 4WD I've ever driven. And the damn thing has no body roll whatsoever. Don't ask me how that is even possible, given that the ride is almost as compliant as that of a BMW Z4 Coupe.
The interior suffers from cost-cutting though, but ultimately it is average enough to get a passing grade. Little gadgets like button-operated doors and the fighter-pilot heads-up display make things interesting.
Anyone who buys a Ferrari, Lamborghini or Porsche over this pure driving machine is only buying it for the snob appeal. When was the last time you saw a Ferrari et al take a corner at anything more than crawling speeds. I corner faster than them in a Corolla.