Mazda MX-5 to be unveiled in Dubai
This is great news. For the first time ever, Mazda has contacted us for a press conference. It seems Mazda has finally taken the initiative and is launching the MX-5 roadster, also known as Miata in USA, in the GCC on October 22. The MX-5 is the best sports car in its class. Available abroad as a ragtop convertible or a folding-hardtop convertible, it remains to be seen what engines and body-styles are offered in this region.
In Europe, the car is offered with a 126 hp 1.8-litre or a 160 hp 2.0-litre four-cylinder, with manual or automatic. These cars were never about speed, but about excellent handling good enough to take down Porsches in curves.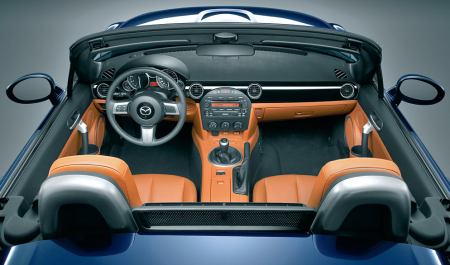 It also has an unfortunate reputation for being a favourite of fashion-conscious women, just like the Mini. However, if Mazda keeps the price under Dhs 90,000, this car will be a massive hit here. Don't expect us to review it anytime soon though. Mazda has never given out cars to the press for as long as we existed.