2008 Ford Mustang Bullitt for America only
The limited-edition 2008 Ford Mustang Bullitt was unveiled at the Los Angeles Auto Show last month. The Mustang Bullitt, named after the 1960s movie Bullitt, is available in green like Steve McQueen's original in the movie, but it can also be had in black. The classic movie is often credited for creating the car-chase movie genre.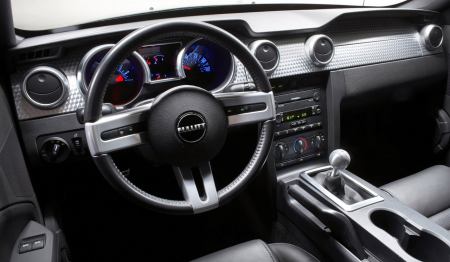 On the outside, the Bullitt has no pony badges anywhere on the car. The plain black grille is encircled by a simple chrome trim ring. The 18-inch Bullitt wheels and brake calipers are painted dark grey, while a round cap on the trunk lid wears a Bullitt badge centred in a gun sight graphic, like on the steering wheel. All spoilers, wings and fake scoops have been removed.
The engine gets revised calibrations, new camshaft timing and a low restriction air cleaner. Those tweaks are enough for 315 hp and 440 Nm of torque. The Bullitt gets the GT500's rear axle with a 3.73:1 final drive ratio, and a 5-speed manual gearbox. The suspension gets revised spring and damping rates along with a lowered rear ride height for improved handling, although it remains a solid-axle rear.

Only 7700 cars will be built, and only during 2008, for North American showrooms only. The serial numbers will run from 0001 to 7700. American dealer prices will start at US$ 31,075. A few will probably show up around here through used car stealers for stupid prices.