2009 Hyundai Genesis unveiled in Korea
Hyundai announced "Genesis" as the official name of its luxury sports sedan, and launched the car in Korea. The rear-wheel-drive Hyundai Genesis is attempting a credible alternative to premium offerings from Germany and Japan, with a range of V6 and V8 engines.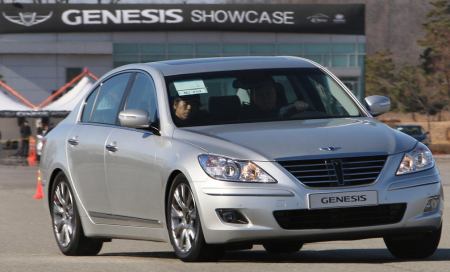 At the same time, the company has unveiled the Genesis emblem consisting of the Genesis logotype set in a black hexagonal shield framed by a pair of wings. However, the Genesis emblem will only be applied to the Korean and Chinese markets, and other markets will probably get the ugly "H" symbol.
The top engine is the all-new 375 hp 4.6-litre "Tau" V8 engine with a six-speed automatic transmission. Hyundai's existing 3.3-litre and 3.8-litre V6 engines from the Azera will also be offered. It will take a few more months for it to spread to the GCC. The same platform will form the basis for the new Hyundai Coupe replacement.