So I bought a BMW M Roadster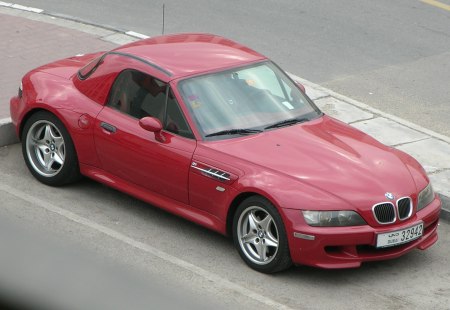 Yep, after an extensive search for a used rocket, our new benchmark sports car is a 2000 BMW M Roadster. In buying it, we broke all the sensible rules of buying a used car, and took the plunge into high-maintenance exotic car ownership. With 321 hp calling, who can resist?
That's right, the S50 inline-six engine, lifted straight out of the late-90s M3 Evolution, clocks in with 321 hp at 7400 rpm and 349 Nm at 3250 rpm from only 3.2 litres, all in a body that weighs around 1410 kg. The engine features Double VANOS (BMW's high-tech version of iVTEC), a standard cold-air intake and even lightened pistons, polished head and other cool engine parts — stuff tuners dream about. In fact, the "M Power" motor is so rare that all the technicians at the RTA's Tasjeel governmental car-testing centre crowded around the open engine bay to stare at it for a few minutes, as we watched from some distance away.
We picked up the car for a bargain at Dhs 45,000. Even sweeter was that we pay the same 3rd-party insurance rates as the owner of a 1.9-litre Z3. Add to that the fact that our car came with the expensive removable hardtop, which reinforces the body and improves the handling, as well as an Alpine aftermarket stereo unit, which pumps up the entertainment factor.
But the car was a bargain because it has a lot of minor defects. None of these defects affect the drive however, but we wouldn't recommending buying a car on a whim like we did, because we knew what we were getting into. But more on that later, in a detailed article on how not to buy a used car.
For now, we'll revel in the fact that we purchased a Porsche killer for the price of a Honda Jazz.