Letters: Opinions on what to buy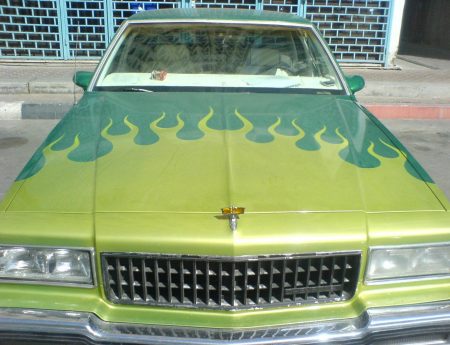 This flame-surfaced Caprice from Abu Dhabi is for sale, and it has to be the most interesting vehicle listed in our upgraded classifieds. I don't know anything more about that particular car, but keep those letters coming in if you have questions about what to buy.
Ziad Chabala says: Hi, thanx for your interesting site, I intend to buy Hyundai Tucson V6 full option I have 2 questions – I heard a lot about the faux Tucson Leather, and you have mentioned in this site what does it mean it is not a leather ! or it is a leather but it is not pure 100% ? How come Hyundai do this! Do you know if Tucson V6 full option got ESP ( Electronic Stability Program) in its options? I have asked a sales man in Hyundai showroom and he could not answer my question. Regards.
Do not worry about the fake leather too much. Every car below Dhs 150,000 has fake leather. In most cases, fake leather also lasts longer, with little care needed. Reading the specs on Hyundai's website, it looks like the Tucson does not have ESP. The all-wheel-drive system should still keep you safe to a certain extent, so go for 4WD instead of the 2WD model. – MHC
Chris says: Hey, after reading your review on the 2002 Jeep Grand Cherokee, I'm seriously considering getting one – but as u say its tough to find one with the service history etc etc…I'm kinda new here (my family was here in the early 90's and then we moved to Qatar – and now I'm back – working in RAK) and I have just passed the road test so got me license and itching to drive! Umm would you be kind enough to let me know where I could find one thats worth the money…I've been reading ur article while in doha and rather like ur attitude esp some of the rants (no pun) ya so do drop me a line n help me to get that jeep! Thanks.
The best thing you can do is go through the newspaper classifieds. That's what I did for a long time. Some will ask for too much, but if you can wait them out, they usually come down in price when they realise they are asking too much. The only ones I found at used car markets were American-spec ones, which should be avoided at all costs, so just look for individually-owned ones. However, being in RAK, I think your search will be much harder, as most of the deals are probably in Dubai and Sharjah, but good luck. – MHC
Nitin says: Hi. I would to like get some information about VW Tiguan, regarding its engine specifications and performance, interiors and exteriors. Would also appreciate if you could tell me the cost of it. And the cost of VW R32. The other point i would like to notify is regarding the Land Rover LR2. on this site u have specified the price range upto 145000 AED, been to the showroom last evening they quoted 162000 AED. Thank you.
Hi. Prices are rising rapidly nowadays due to inflation, and I cannot keep track of them. As for VW, avoid them to avoid future repair headaches. – MHC
Chris Nil says: I would like to tell you that this site is a very good one because not many sites give a unbiased view on the cars that are in the market. It would actually be nice if you would update this site on a regular basis. As in, some of the prices are a little off from what i ve checked personally, lets say for example, the Honda Civic starts at 68,000/- unlike the info you have. I am really looking forward to picking a car and such details do make a difference.I like this site and it would be great if you could do site updates regularly. Hoping that you will do so. Keep up the good work too!!!
As you know, inflation is being blamed for rising prices, and all car prices seem to be changing monthly. As a result, it is impossible for me to spend time looking up prices for 300 different models monthly. The guide will have to remain as is for now, and be used as a reference for specs rather than prices. – MHC
Anil says: The 2009 model of Honda MRV has already been launched in the US. Do u have any idea of its introduction in UAE?
There is no news on the new MR-V. I'd say it'll come right after the end of summer. – MHC
Ed Hald says: Hello, I'm thinking of purchasing a GS430, but I'm hesitant as I heard Lexus may introduce the GS460 to the Middle East soon. Any idea if this is true? Regards.
The Lexus GS460 was introduced in other markets this year, so it is possible the new model will come here also soon. You should probably wait if you want the larger engine. – MHC
Tons more letters are coming in nowadays that will be published later. But I've personally replied to all of them already. So keep sending in your letters by clicking here!