2010 Chevrolet Camaro revealed early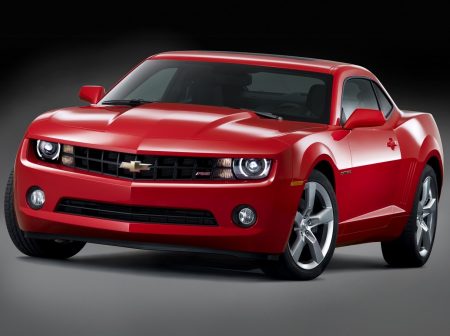 The 2010 Chevrolet Camaro, which more or less looks just like the overexposed prototype, is going to be revealed on July 21 in the United States, and these are the first photos. Powered by a 304 hp 3.6-litre V6 or a 400+ hp 6.2-litre V8, and riding on a shortened Lumina SS platform with four-wheel independent suspension, the new Camaro already makes the low-tech Mustang seem outdated by three decades.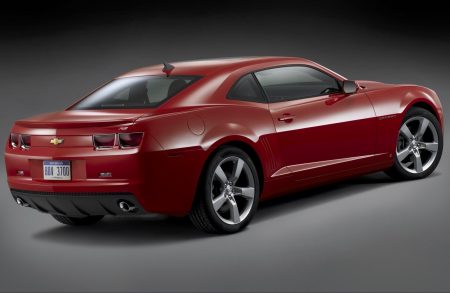 The Camaro will come in LS, LT and SS trim, equipped with either a 6-speed manual gearbox or a 6-speed automatic. The LS and LT get a 304 hp V6 with 370 Nm of torque, with manual or auto. The SS gets a 426 hp V8 (569 Nm) with the manual, or a 400 hp V8 (555 Nm) with the automatic. The automatic V8 features cylinder deactivation to improve fuel economy. StabiliTrak traction control is standard, while Brembo brakes are available on the SS version. The SS also gets stiffer suspension and adjustable Competitive/Sport modes for stability control and Launch Control on manual models.
The interior is a bit of a letdown, with a truck-like dashboard peppered with an overkill of misplaced bulging gauges. Shown here is the leather interior, with blue LED lighting. The cabin looks to be of better materials than the hard plastics in the Mustang.
Standard rims include 18-inch, 19-inch and 20-inch wheels. An RS appearance package is available on LT and SS that includes HID headlamps with integrated halo rings, spoiler, different tail-lights and 20-inch wheels. The V6 weighs between 1700 kg and 1718 kg, and the SS V8 between 1755 kg and 1779 kg.
It is a fair bet that the Camaro will come to the GCC by the summer of 2009, as its American showroom launch is in early 2009. A convertible version will also be available in the States during November 2009.