Nissan develops bee-robot to avoid crashes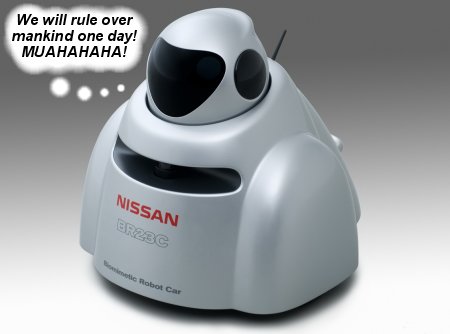 To be shown at the upcoming CEATAC show in Japan, Nissan has developed a system designed for cars that could automatically avoid collisions, using ideas garnered from the natural abilities of bees.
Co-developed with the Center for Advanced Science and Technology Research at Japan's prestigious Tokyo University, Nissan has built the Bio-mimetic Car Robot Drive, or BR23C, a robotic micro-car that recreates bee characteristics with the goal of producing a system that prevents collisions altogether.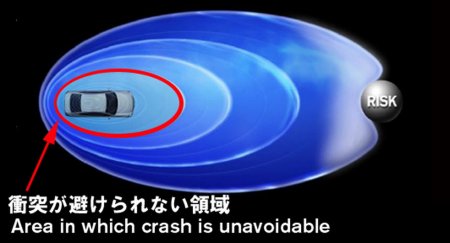 In flight, each bee creates its own oval-shaped personal space. It is the bee's compound eyes, capable of seeing over 300-degrees in all directions that allows the bumblebee to fly uninterrupted inside its own personal space.
In order to recreate the function of a compound eye, engineers came up with the idea of a Laser Range Finder. The LRF detects obstacles up to two meters away within a 180-degree radius in front of the BR23C, calculates the distance to them, and sends a signal to an on-board microprocessor, which is instantly translated into collision avoidance.
The split second it detects an obstacle, the car/robot will mimic the movements of a bee and instantly change direction by turning its wheels at right angles or greater to avoid a collision. The biggest difference to any current system is that the avoidance manoeuvre is apparently instinctive. If that was not so, then the car robot would not be able to react fast enough to avoid obstacles.
The whole process must happen within the blink of an eye. But unlike a bee, it cannot deviate upwards or downwards or diagonally, only in two dimensions and only in the direction that the wheels can turn. So in place of the infinite number of ways a bumblebee can avoid other bees, Nissan has employed a rotation function, in addition to acceleration and deceleration as the car/robot's means of collision avoidance.
The BR23C uses lithium polymer batteries, which are lighter and have higher energy density, meaning that they last longer than the lithium-ion variety.

Nissan says that the car/robot's instincts are intelligent, and does not need to retain any memory or intuitive logic from previous manoeuvres, so it can operate continuously using as little as a couple of dozen KBs of memory.
This is the first step in developing instantaneous collision avoidance technology, which Nissan anticipates will find its way into production cars within ten years, as part of its Safety Shield project. One other possible future application could be to integrate the unit with a GPS sat-nav system so that it leads a driver to a destination, avoiding obstacles along the way.
Rest easy that these future systems will be integrated into actual cars, and not geeky-looking big-butted dork-mobiles.