Renault Laguna Coupe & other models in Abu Dhabi

Renault will be launching various new models at the upcoming 2008 Abu Dhabi Auto Show next week. Sitting among the new models will be the attractive 2009 Renault Laguna Coupe.
The Laguna Coupe is powered by a 240 hp 3.5-litre V6 that is most likely derived from Nissan's VQ engine series. A 2.0-litre engine option might also be offered. First shown at the 2008 Paris Auto Show last October, this will be the first time that the car is shown in the Middle East.
Renault claims that the Laguna Coupe is capable of accelerating from standstill to 100 kph in less than seven seconds, and combines the decent V6 with an 'Active Drive' chassis and four-wheel steering.
At low speeds, the Active Drive chassis and four-wheel steering system enhance manoeuvrability and it takes drivers no time at all to familiarize themselves with their characteristics. In town, as well as on twisty roads, the car is easy to drive and offers outstanding handling precision. It makes choosing the optimal cornering line intuitive and further enhances the pleasure experienced behind Renault Laguna Coupe's wheel, a feeling reinforced by the absence of transient dynamic phenomena through turns and by its directional precision at small low steering wheel angles. On the active safety front, the Active Drive chassis equipped with four-wheel steering excels not only under braking in difficult conditions (asymmetric grip, deployment of ESP), but also when taking avoidance action.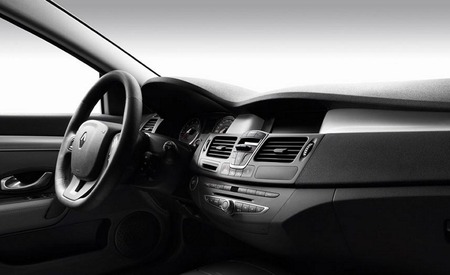 Other features include 17-inch or 18-inch alloy wheels, LED tail lamps and more. An entertainment system called Microsoft DeepZoom is offered in Europe, although whether it will make it to the GCC is unknown. Other Renault models definitely will make it to Dubai and the GCC though, including the Turkish-built Symbol subcompact, the Korean-built Koleos crossover 4WD, the Romanian-built Logan subcompact, and the truly-French Megane Exception.