Nissan GT-R Spec V launched in Japan

The much-awaited 2009 Nissan GT-R Spec V has been unveiled in Japan. Contrary to popular rumours, there are no power upgrades, as Nissan instead focused on reducing weight to create a track-biased car. This leads us to believe that the standard engine-gearbox combination is already running at optimum, and any performance modifications done by tuning companies are simply reducing the life of the car.
The 478 hp 3.8-litre twin-turbo V6 with dual-clutch transmission continues, but the GT-R Spec V has new exterior features that include a carbon-fibre rear spoiler, a carbon-fibre grille, and carbon-fibre brake ducts. Along with other colours, the Spec V is also available exclusively in "Ultimate Black Opal" colour.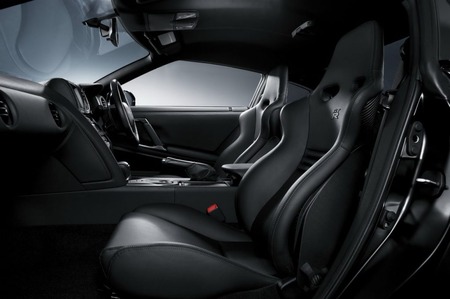 The cabin features special Recaro carbon-fibre bucket seats, while the rear bench has been removed. Excessive carbon-fibre trim also covers the rear centre-storage box, instrument panel and other areas.
The only performance add-on is a new high-gear boost control device, which momentarily increases boost of the engine's twin turbochargers for greater torque at medium-to-high speed, while also allowing the engine to operate at lower revs for improved fuel economy. Other modifications include a titanium-coated exhaust system, retuned shocks, carbon-ceramic brakes, and lightweight 20-inch forged-aluminium wheels.
The limited-edition Nissan GT-R Spec V costs 15,750,000 yen (Dhs 630,000), and will only be sold at seven specific dealer outlets in Japan, each staffed by mechanics with special "GT-R SpecV training" and track-driving knowledge. But expect at least a few to creep into Dubai used car showrooms at twice the price, even if no one here has the skill to fix or even drive one.