So we got a Chevrolet Traverse

So we got a brand-spanking-new 2009 Chevrolet Traverse from the General. We were told that we were at the top of the list for this one, although seeing many of these on the streets beforehand suggests otherwise. Either way, I knew it was going to be a good-looking vehicle. It really looks like a premium-branded vehicle, appearing much more classy than bulldogs like the Audi Q7 and the Mercedes-Benz GL, none of which will ever realistically touch a grain of sand. It looked good enough for my PR guy to start leaving drool-stains on the bonnet.
The Traverse is technically a midsizer, based on its width, but it is longer than most fullsize SUVs. That also makes it a pain to drive in underground parking lots. But with those 20-inch alloys, at least you will look good while you struggle.
The rear end is by far the best angle for this quasi-crossover-SUV-minivan. That's what it is. Our tester was even a front-wheel-drive model.
This is probably the best-looking people-carrier you can get, without actually getting an actual minivan or an impractical SUV or a Flex.
Once you figure out how to park it using the reverse camera and mirrors, you will be ready to battle any shopping trolleys that come your way.
The absolute upscale feel is only let down by a few pieces of cabin trim, such as the hard-plastic dashboard. Otherwise, even the cabin looks decently premium. The ill-placed fire-extinguisher makes an appearance again, as seen in all GM SUVs.
The optional 2nd-row captain's chairs offer tons of space. That centre-console box opens in three different ways to reveal three different compartments, enough for my PR guy to put a sweater in there and not find it any more.
The last row can fit adults in reasonable comfort as long as they are not too tall. Access to the 3rd row is rather easy too. We are left wondering why the older GMC Acadia we tested isn't this user-friendly.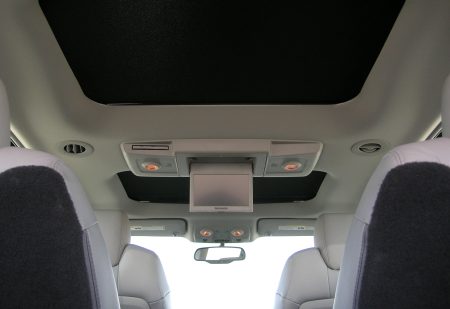 Dual glass roof panels and a rear-seat DVD player round out the premium features. There is a remote-operated tailgate too.
And a family-of-four can sleep in the cargo area if you fold down the last-row seats, with room to spare.
With its low ground clearance, it is best to leave the Traverse on the road rather than venture onto the sand when visiting the beach.
That way, you can keep the vehicle clean when you drive up to the Atlantis valet and trick them into thinking you are in a super-expensive vehicle, when all you came for is to see Sammy the fish-meatball.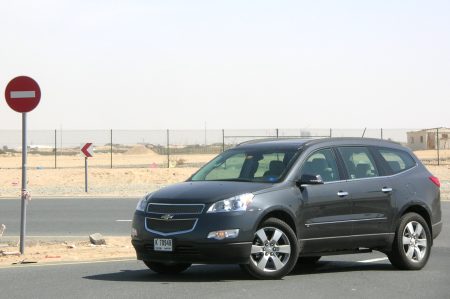 Driving impressions will be covered in the upcoming full review. Be advised that the Traverse actually drives like a premium vehicle too, with passengers isolated from the outside world. While quietly cruising on the Al-Ain-to-Dubai highway, where the speed limit suddenly changes from 120 kph to 80 kph with little in the way of warning signs, I got flashed at 115 kph by one of those stupid new speed cameras. There goes my clean record with test cars.
Update: The fine never showed up. The RTA probably realised it was a speed trap.