Mercedes-Benz SLS AMG Gullwing in the works

Mercedes-Benz has revealed that they are working on a new supercar called the SLS AMG. Announced at the 2009 Geneva Auto Show, the German manufacturer has confirmed that the car will feature gullwing doors similar to the classic 1950s 300SL, which eventually evolved into today's SL-Class.
Mercedes-Benz has released their own images of SLS prototypes being tested by their engineers, in what looks like an attempt to put spy photographers out of business. The SLS is smaller than the oversized SLR McLaren, with an all-new aluminium space-frame and weighing 1623 kg.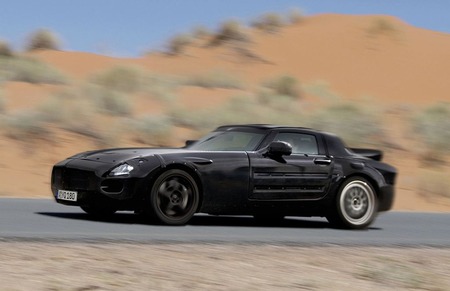 The engine of choice is the AMG 6.2-litre V8 producing 563 hp at 6800 rpm and 649 Nm of torque at 4750 rpm. Other features include a carbon-fibre driveshaft, a new 7-speed dual-clutch automanual gearbox, and a 'Race Start' launch control function to recreate 0-100 kph times of 3.8 seconds on every try. The top speed is 314 kph. For braking power, there are 15.4-inch front discs with six-piston calipers and 14.2-inch rears with four-piston calipers, while carbon-ceramic rotors will be optional.
The SLS AMG will be officially launched later in the year.