So we got a 2010 Lexus RX350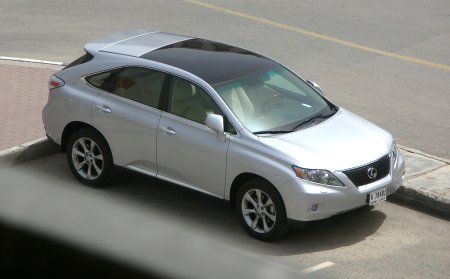 We first got wind of the 2010 Lexus RX's imminent launch when I and my PR buddy did the rounds of ad agencies a few months ago, trying to get advertisements for this website. At the time, Toyota UAE's ad agency said they will not give us their upcoming Lexus RX ads because they only wanted to target women, and apparently we don't have enough women visiting this site. A month later, we see ads for the RX all over MBC Action, AutoMiddleEast, Car ME and every other possible men's media. While we were flat-out rejected for the ad campaign for flimsy reasons, we could not help but feel uncomfortable driving our Lexus RX350 tester last week, in fear of appearing too girly while cruising around Dubai.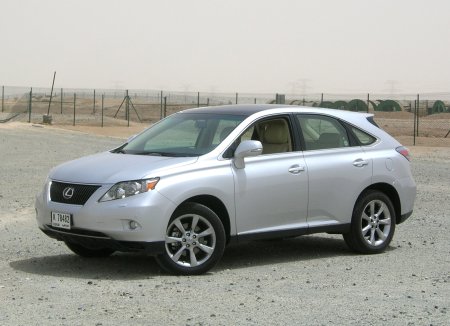 Not that the RX350 is a bad vehicle. It does exactly what it is supposed to do, and isn't too bad to look at either. However, spotting the minor differences between the old and the new model is something we didn't waste our time doing.
The space-pod exterior is retained, and has very tasteful smatterings of chrome, colourless tail lamps, and nearly-hidden exhaust outlets. It isn't going to attract any attention, but maybe that is what Lexus was vaguely trying to achieve.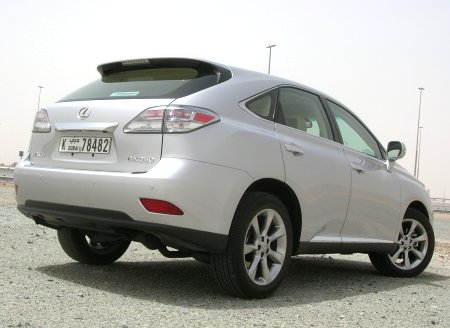 That big gash on the lower door panels isn't a dent, but rather a sculpted design feature. It is a unique styling idea, but it made us turn and look again a few times to make sure it wasn't accidental.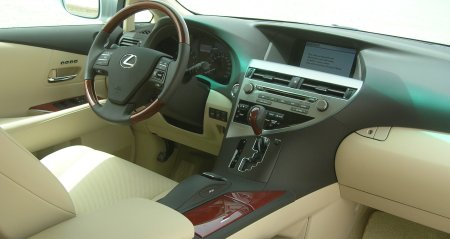 The interior has a weird organic theme going on, but even if it isn't terribly appealing, Lexus has to be commended for trying something different. It was actually fun to play with this setup, as it felt like piloting a space-pod. But as entertaining as it was, we believe its target buyers would prefer more conservative cabin designs.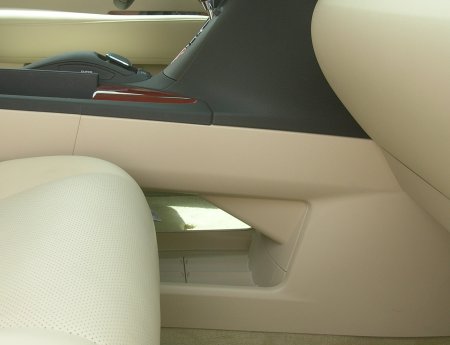 The interior ambience is suitably upscale, with premium materials on the dash, the doors and the seats. The leather, the wood and the plastics were perfect. However, many of the lower cabin panels are hard plastic, which isn't really a big deal, but we've seen the new Infiniti FX use soft-touch materials on those hard-to-reach parts too. Also, that storage "hole" under the centre console is a bit, well, unexpected in its placement.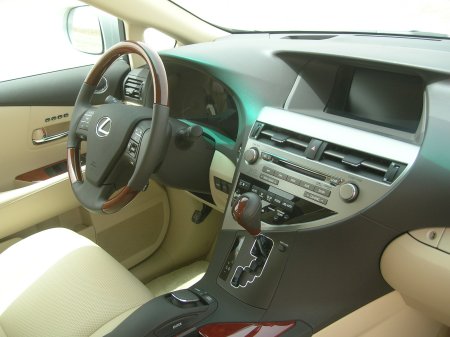 Many features caught our eyes, besides the overall shape of the dash. The unique controller below the gear-shifter is designed for the driver to rest his palm on, but in practice, the entire interface was awful to use since that squarish flat-topped joystick is used to control, of all things, a mouse pointer on the screen, making it hard to select menu items while driving. Let us not get started on the computer system's 1985-style lag, caused simply because it spent half its processing power trying to read the navigation DVD, which was missing in our tester. Also, the Bluetooth easily paired with my Windows-based HTC Touch phone, but it dropped the hands-free connection each time an actual call came. How temperamental is that?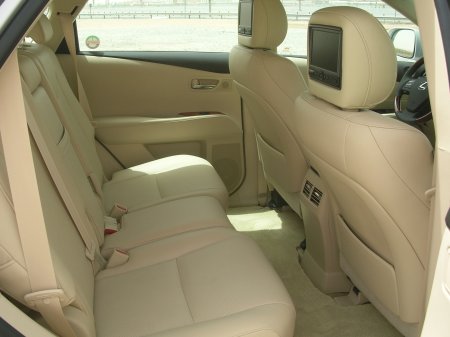 Rear legroom is pretty decent for a midsize SUV, and much more than in the Infiniti FX. The lack of rear a/c controls was surprising at this price point. We didn't try out the twin headrest-mounted DVD screens.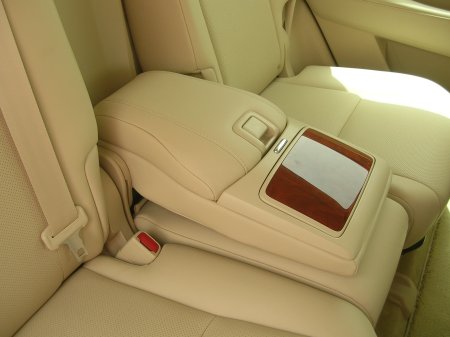 The rear can seat three easily, but it also comes with a nicely-designed central pull-down armrest to give the impression of a "four-seater" vehicle, without wasting space.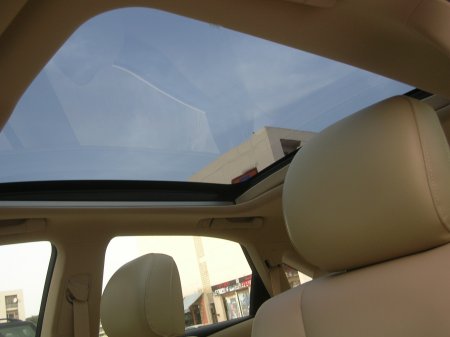 The cabin feels even more spacious due to the optional panoramic roof. It is one large continuous piece of glass, with no sunroof opening.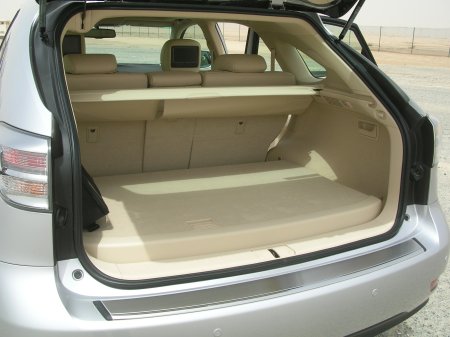 The cargo hold is reasonably-sized, and again beats the Infiniti, but the raised floor and the sloping rear reduce space. The floor is raised to hide a full-size spare tyre.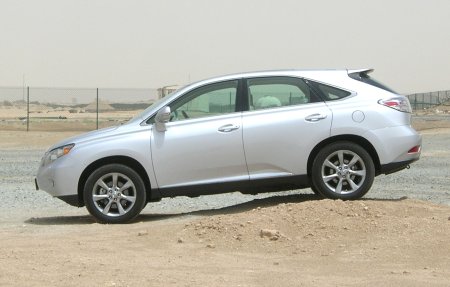 This is about as much offroading as the RX350 can handle, due to its exposed underbelly. However, it is no worse than any of its direct crossover competitors.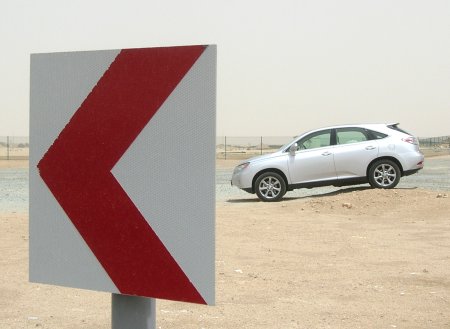 Indeed, the RX350 is perfectly suited for highway cruising and city driving. We even took it on a cross-country road-trip from Dubai to Ras Al Khaimah and back in the rain, driving at above-average speeds in the wet just to see how this all-wheel-drive car reacted. It reacted just fine.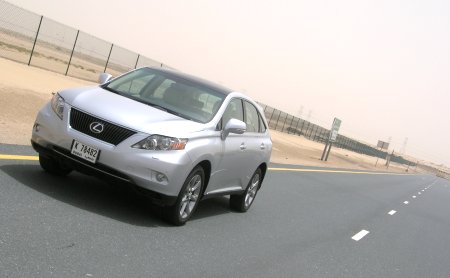 It should be noted that, besides the few above-mentioned gadgets, all other electronics worked perfectly, including the vented seats, rear camera and adaptive cruise control. More driving impressions will be forthcoming in the full review later.
To keep track of local prices, specs and further reviews, visit the Lexus RX350 buyer guide.